​Our RE/MAX Ocean Surf and Sun agents are truly the best in Costa Rica. We have assembled a team of professionals that can help you with every step of the purchase process. Our team of agents belongs to the two most important real estate boards in Costa Rica - CCBR (Costa Rican Real Estate Board) and CRGAR (Guanacaste Real Estate Board). Everybody is also registered SUGEF, very important requirement for the buyers and sellers when it is time to choose an agent. 
All our agents live in the Tamarindo area or Flamingo area and own property themselves, so are committed to Costa Rica, the local community, and their clients. We look forward to working with you!
ISABELLE EMOND, Broker/Owner - New picture coming soon :-)
Isabelle is the Broker/Owner of RE/MAX Ocean Surf and Sun of the Tamarindo office. She relocated to the area from Canada in 2012, where she had owned a construction company that specialized in high-end residences for more than 12 years. She also belongs to CRGAR and NAR and is a multiple RE/MAX award winner, such as Chairman's club. Isabelle speaks English, French and Spanish. 
More info on where Isabelle lives: PLAYA TAMARINDO
COURTNEY BORQUET, Broker/Owner
Courtney is the Broker/Owner of RE/MAX Ocean Surf and Sun of the Tamarindo office. Her educational background is in international business. Courtney relocated to Costa Rica more than twenty years ago from North Carolina, and has served for several terms as the President of Guanacaste Real Estate board. She also belongs to CRGAR and NAR, and is a multiple RE/MAX award winner. Courtney speaks English and Spanish. 
More info on where Courtney lives: HACIENDA PINILLA
CHRIS SIMMONS, Agent - LISA SIMMONS, Agent
Chris is the founder of our networked team of three offices (Re/Max Ocean Surf, Re/Max Tres Amigos and Re/Max Prestige Ocean). Chris is a Canadian Chartered Accountant who has worked in England, USA, and Canada. His professional experience includes forensic accounting for the Royal Canadian Mounted Police and managing criminal law firms in Vancouver. Chris relocated to Costa Rica with his wife Bonnie and their family over 15 years ago. Chris is a Certified International Property Specialist, and is a multiple RE/MAX award winner including Broker/Owner of the Year. He also belongs to CRGAR, and work in team with his daughter Lisa Simmons. They both speak English and Spanish. 
More info on where Chris and Lisa live: RESERVA CONCHAL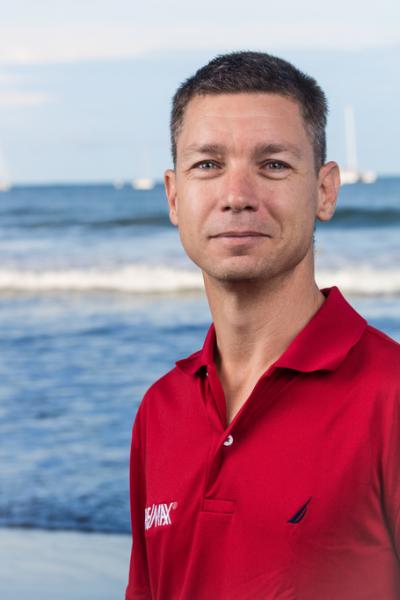 CHRIS SPEARS, Agent
Chris is an entrepreneur who founded several sucessful businesses in his home of Kentucky. Chris relocated to Costa Rica after marrying Elena Guerrero from Liberia. Chris speaks fluent Spanish and is committed to working with his clients locate their piece of paradise. Chris and Elena also volunteer a significant portion of their time to help the local community. Chris speaks English and Spanish. 
DERRICK POELSMA, Agent
Derrick, originally from Florida, first came to Costa Rica in 1991 to visit family and to study on their Biological Reserve known as Las Vueltas High Land Retreat. Years later after graduating with a degree in Marketing & Graphic Design, he decided to spend some time down in Costa Rica traveling and studying Spanish. After a very short time, he decided not to return to the US and started a business; he founded a graphic design and multimedia marketing firm that held numerous marketing contracts with big known clients. In 2007, he relocated to Tamarindo. He dedicates endless efforts to ensure the highest quality of service for all his clients. Derrick speaks English and Spanish.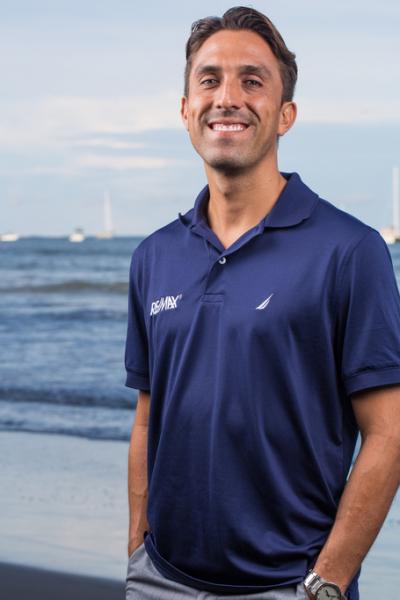 ALEJANDRO AMADOR, Agent
Alejandro is a Native Costa Rican, has lived in the area for over 15 years and is well known in the community, knows a lot of people and his charisma and experience in real estate makes people confident. He is a family man, an avid surfer and an Industrial Engineer graduate. He always followed his passion for developing property and built Las Avellanas villas in Avellanas beach in 2005. He also worked for 7 years doing sales and property management of a big condominium complex outside of Tamarindo before joining the RE/MAX team in 2015. He can assist with your investment in English, Spanish and Italian. 
More info on where Alejandro lives: LA JOSEFINA
GABRIEL SEGUIN, Agent
Gabriel is a Canadian fellow who moved in Costa Rica in 2012 with his parents. He graduated from CRIA, an International local school here in Guanacaste, then studied as an Audio Engineer in Ontario, Canada and graduated in 2018. He also went at Concordia University in Montreal, Canada and with Covid pandemic, decided to come back to his roots of Costa Rica. He knows the real estate market here very well since he was an administrative assistant and part time agent for the Remax owners from 2015 through 2017. He can assist with your investment in French, English and Spanish. 
More info on where Gabriel lives: PLAYA TAMARINDO
SUK LIN AJU, Agent
Suk is Costa Rican, originally from San José and has been living in Tamarindo area for the last 3 years. She has a degree in Marketing and has experience in several industries and markets, from hospitality to commercial business, strategy and development. Ever since she was little, Guanacaste has been part of her life and she'll be happy to advise you on how to be a part of the Golden Coast of Costa Rica, for leisure or business. She can assist you with your investment in Spanish and English.
KATE ROBINSON, Agent
Kate moved to Costa Rica in 2014. Originally from Cleveland, with a BA from University of Colorado Boulder as Software Engineer, she now has many years of experience living as an "Expat" in our beautiful country. She resided for 7 years in Playa Nosara, lived 2 years in Playa del Coco and recently moved in Playa Brasilito in 2023. Certified as a real estate agent with RE/MAX Central American and after 2 years working for Remax Synergy in Playa del Coco, she is now part of the Remax Ocean Surf & Sun Family in Playa Tamarindo. She can assist you with your investment in English and Spanish.