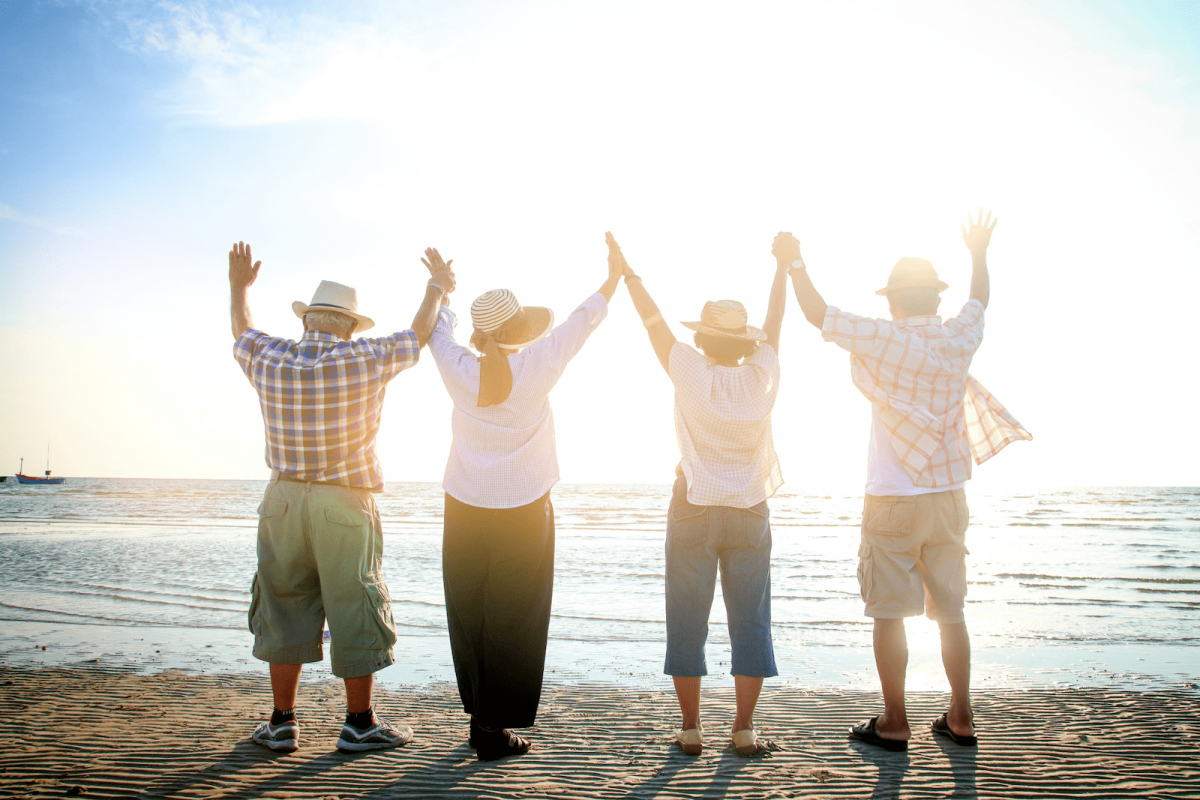 Costa Rica consistently ranks as one of the best places in the world to retire. International Living and Conde Nast Traveler both currently list Costa Rica as the second best foreign country in the world for retirement living. What do those organizations and the thousands of North Americans who move there every year know? That Costa Rica's blend of tropical climate and natural beauty, excellent medical care, developed infrastructure, attainable residency requirements, and lower cost of living provides the leisurely lifestyle that so many retirees seek. A stable, democratic government and friendly locals that welcome expat residents to their country ensure a peaceful retirement in Costa Rica. Here's everything you need to know about retiring in Costa Rica.
Amazing Climate
Many retirees look forward to having the free time to do what they really want to do, and Costa Rica offers them the climate and opportunities to fulfill those dreams. Costa Rica boasts one of the best year-round climates on the planet. The country offers more winter sunshine than either Hawaii or Florida. The North Pacific Guanacaste province is the driest in the country, so we experience less humidity compared to other parts of Costa Rica. 
Even in the wet season—when refreshing rain falls from May through November—we still get an abundance of sunshine. The fabulous weather is great for both mental and physical health.  We enjoy our favorite outdoor activities—strolling on the beautiful beaches, golfing, and fishing—any day of the year. And if you miss the feel of the cool spring or fall days where you lived before, you can experience them again by driving a few hours to the mountains in the center of Costa Rica. 
Universal Healthcare System
If you retire in Costa Rica and establish permanent residency, you will have access to its excellent healthcare. Not only is it available to all permanent residents, but it's affordable—the monthly rate is based on income (typically 7 to 11 percent). The public healthcare system is composed of a clinic in every small town and regional hospital in the larger cities. The capital city, San Jose, has multiple hospitals and an international airport in case of emergency. Tamarindo has several local medical clinics with certified doctors and ambulances. Both public and private hospitals are well equipped.
Three private medical facilities in the Central Valley have been certified by the Joint Commission of International Accreditation and Certification: Hospital CIMA, Hospital Clinica Biblica, and Hospital Catolica.  If you prefer to pay for your healthcare as you go, out-of-pocket costs are acceptable. According to CNTraveler.com, visits cost around $50 for a regular doctor and $80 for a specialist. Another option is to purchase an international insurance policy that will cover any medical needs that arise.
Healthy Lifestyle and Longevity
Retiring in Costa Rica will introduce you to a lifestyle that promotes health and longevity, keys to a happy retirement. Is it the more relaxed pace of life? Or a healthier diet that includes fresh produce--locally grown fruits and vegetables that are always in season at an affordable cost? Or the abundance of outdoor activities and the weather to enjoy them year-round? 
Numerous studies have investigated the factors that contribute to the wellbeing and longevity in blue zones--the five regions in the world where people live the longest. Costa Rica's blue zone is part of the Guanacaste province where the Pacific Coast communities of Tamarindo and Playa Flamingo are located. In a report published by ABC News, demographer Dan Buettner found that Costa Ricans on the Nicoya Peninsula survive to the age of 100 four times more often than men in the United States despite the fact that their medical costs are only about 7% as much. How long might you live if you retire in Costa Rica?
Cost of Living
An important factor for those who want to retire overseas is cost of living. The cost of living in Costa Rica is not the lowest in Central America, but it may be the best value. Costa Rica offers retirees superior healthcare, a modern infrastructure (including high speed internet), and products you may need or desire. If you decide to retire in Costa Rica, you will probably have a fixed income and budget, so you'll want to make your monthly income go as far as possible. And there are smart ways to make your pension or retirement fund stretch without sacrificing too much.
Your cost of living will depend almost entirely on two factors: where you live and the lifestyle you maintain there. In coastal areas like Tamarindo and Flamingo, homes on or near the beach are more expensive than those a little farther away. Homes in the city center cost more than those located out of town. Check with a real estate agent to find one that fits your wish list and budget. The second factor is lifestyle. For example, if you eat all the same foods in Costa Rica that you did in your home country, your grocery bill will be higher because now all those foods are imported. But, if you enjoy the fresh fruit and vegetables that are locally grown, you will see substantial savings. If you want to drive the same model vehicle that you had before, it will cost more in Costa Rica due to import taxes and higher fuel costs. However, if you get a vehicle that's a few years older or a little more economical, you now have low cost transportation. 
Property taxes are low in Costa Rica, so the reduced tax burden helps your social security benefits go further. Be sure to check out or blog about the cost of living in Costa Rica. And remember that the cost of living is relative. If you leave a large North American city to move here, retiring in Costa Rica will be incredibly affordable by comparison. Another way to make your fixed retirement income go further is by putting some of your money in a Costa Rican bank account or credit union. The interest paid on a certificate of deposit in colones (Costa Rican currency) is often several percentage points higher than a U.S. dollar or euro account. So start saving!
International Airports
Costa Rica boasts two international airports that are served by all the major airlines and several low cost airlines. The Guanacaste Airport, located near Liberia, is only an hour's drive from Tamarindo and Flamingo. It offers nonstop flights to more than 20 cities in the United States, Canada, and Europe. The Juan Santamaria Airport in San Jose has more than 30 nonstop destinations throughout North America, Europe, the Caribbean, and Latin America. So when you retire in Costa Rica, you're only a few hours away from family and friends.
Political Stability
Costa Rica is proud of its long democratic history. Orderly elections are held every four years followed by a peaceful transfer of power. The army was abolished in 1948, the last year a major governmental change took place, so there is never the threat of a military coup. An occasional strike or protest pops up, but they rarely disrupt everyday life. So, you won't have to worry about being forced to leave Costa Rica in a hurry.
Rich Culture
Costa Ricans, who call themselves Ticos, are a friendly, easygoing society. A common reply to a greeting is "pura vida". Translated literally, it means "pure life". It also describes their carefree lifestyle. They are always ready to help a neighbor or have a good time. They love their families, food, and football (soccer, not the American game). If you only speak English, they'll try to understand you even if they don't. And if you take Spanish lessons, they'll like you even more for trying to connect with them.
Residency
Anyone who has a valid passport can enter Costa Rica as a tourist and stay 90 days. At the end of that period, they must depart Costa Rica for at least 72 hours after which they can return for another three months. Some retirees have legally lived for years in Costa Rica by leaving every 90 days. Others chose to become residents, and permanent residency has its advantages. In addition to avoiding an exit four times a year, permanent resident status makes everyday life easier. It facilitates opening a bank account, getting a driver's license, making large purchases, and handling legal matters. Therefore, anyone considering retiring in Costa Rica should consider applying to become a legal resident. Immigration authorities have established four ways to become residents. The methods, with their corresponding requirements, are listed according to their names in Spanish:
"Inversionista" (investor)—requires a business or real estate investment

"Pensionado" (retiree)--requires a pension or other retirement income

"Rentista" (legal resident)--requires savings or guaranteed non-salary income

"Vinculo" (marriage or family)—marry or be related to a Costa Rican citizen
The minimum monthly income for a "pensionado" is just about $1000. The source can be a lifetime pension, retirement fund, or another type of retirement benefits. Obviously, Costa Ricans welcome foreign nationals and make it easy to obtain permanent residence. Every year, more and more American expats are moving abroad to retire in Costa Rica. Many expats come for the weather, others for the healthy lifestyle, and some like the affordable cost of living. Whatever the reason, Costa Rica is a great place to retire.