Playa Danta is a spectacular beach that is located north of Playa Tamarindo and Playa Flamingo. You will see locals and tourist enjoying the Limonada restaurant directly on the beach, and renting paddleboards and sports equipment from Pura Vida Ride.
Las Catalinas is a 1,000 acre beach town at Playa Danta and features lots, homes, and condominiums. The high-end, Mediterranean style construction has unique details including cobblestone walkways, Italian tiles, and sunken pools and fountains. Las Catalinas consists of multiple neighborhoods, the most central of which we call Beach Town, which includes Plaza Danta, Limonada restaurant, and the Pura Vida Ride shop.  
One side of this new town is embraced by over 1,000 acres of spectacular tropical dry forest hills and valleys with extensive hiking, biking, and horseback trails. On the other side is the Pacific Ocean where we have two of the finest beaches in all of Costa Rica with great swimming, stand up paddle boarding, kayaking, boogie boarding, and snorkeling.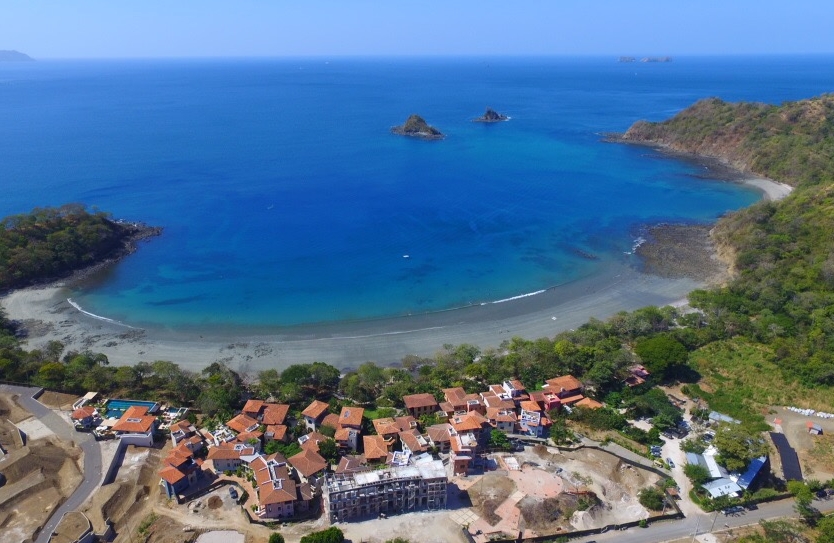 Las Catalinas project has been started in August of 2006 and immediately delved into the work of planning, engineering, and getting regulatory approvals. They began construction of infrastructure in 2009. The first houses and commercial buildings were completed in 2011. Most of Beach Town is complete, and much of the rest is under construction. Paseo Punta Penca, a neighborhood of larger houses with great views, is complete (street and infrastructure), the first houses are finished and more houses are under construction. Beach Town South lies between Beach Town and Paseo Punta Penca and contains the Beach Club. 
We will be happy to help you with finding your perfect property overlooking beautiful Playa Danta.