Pura Vida Surfing in Costa Rica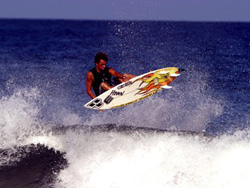 Costa Rica is a surfers' paradise, drawing surfers from around the globe. One of the greatest attractions is the diversity and constancy of the surf, not to mention the year round balmy water temperatures. The Caribbean and Pacific coasts both offer a variety of breaks. Though the Caribbean coast has a relatively short season, the Pacific Coast boasts a year-round swell from both the north and the south.
For surfers seeking to secure their own piece of Costa Rica surf paradise, it's possible to purchase Costa Rica real estate near some of the best Pacific Coast surf breaks.  Regardless of which months you stay in your Costa Rica property, you'll be sure to catch some great waves. Some of our agents are avid surfers so contact us to learn about the best surfers' properties on the coast. Here's a brief overview of surfing in Costa Rica:
Pacific Coast - Surfing in Tamarindo and Playa Grande
Playa Tamarindo is the surf mecca on the Pacific Coast and is at the top of the list on every surfer's journey to Costa Rica. Tamarindo was featured in the cult surfing movies Endless Summer I and II. Tamarindo boasts great waves in its wide bay and also offers convenient access all the renowned waves featured in Endless Summer II, including Roca Bruja or Witch's Rock, Ollies Point, Playa Negra, Playa Avellanas, Playa Langosta and Playa Grande (both actually being situated in the same Bay as Playa Tamarindo, but separated from it by an estuary).
And there's lots to keep you busy you after a great day of surfing. Bustling Tamarindo has excellent restaurants, hotels, shopping, bars, nightlife, and activities to suit every taste and budget. Golfing, quad tours,  sport fishing, sailing, eco-tours, horseback riding and diving are other popular Gold Coast pursuits, so if you travel with non-surfers, the North Pacific coast has something for everyone. For nervous swimmers, there are many pristine beaches and coves nearby that offer calm swimming, such as Flamingo Beach, Playa Potrero, Playa Conchal, Playa Penca and Sugar Beach. Sections of Tamarindo Bay are sufficiently tranquil for even young children to swim, so ask the locals where the best surf and swim spots are before hitting the water.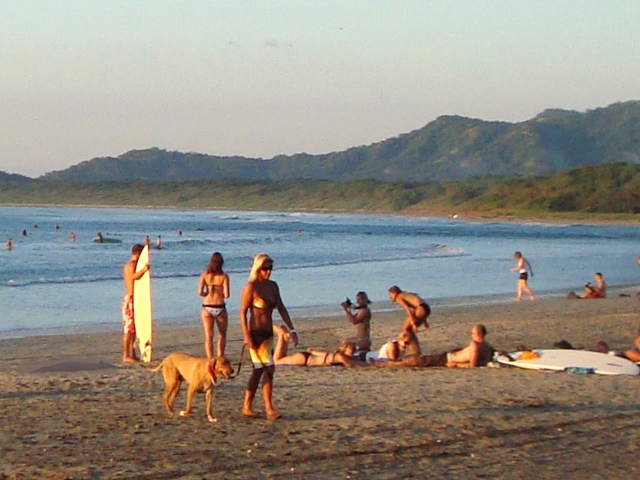 Tamarindo is also an exceptional place to learn to surf in Costa Rica.  The bay offers a long, clean curl that is great for newbies. If you are interested in surf lessons or information about surf tours, you can contact Cairo Borquet at 011-506-8893-0842 or cborquet@gmail.com. Cairo, a seasoned local surfer who speaks English and is good with children, beginners and experts alike. He has over 10 years experience, is CPR certified, and offers group or private lessons.
Another great Tamarindo surf instructor is Raph, the proprietor of Secret Spot in downtown Tamarindo.  In addition to lessons, Raph also rents surfboards and sells clothing, gear and accessories.
We have exceptional Costa Rica condos, homes and lots at or near the best surfing spots. Please click here to inquire about surf properties in the Tamarindo area.
Central and South Pacific Coast - Surfing in Hermosa and Jaco
The best time to surf the Central and Southern Pacific coast is during Costa Rica's winter season, June to November. Jaco, an established beach town about two hours drive from San Jose, is a popular spot with surfers. Jaco provides easy access to constant beach breaks at Playa Hermosa and nearby surfing beaches.
For surfers venturing further south along the coast, Playa Dominical is the next major destination. The river mouth has good left and right breaks, and other points are accessible up and down the beach.
Pavones, near the Osa Peninsula, boasts one of the world's longest left breaks. The prime time to surf Pavones is between August and September. Although the weather can be very wet, and the roads muddy (a 4x4 is highly recommended for travel along the Central and Southern coastline), the surf is well worth the effort.
Carribbean Coast - Surfing the Salsa Brava
The Caribbean has a fairly brief season, but benefits from seasonal storms that create waves from 2 to 12 feet. One of the most famous Caribbean breaks is Salsa Brava, a right reef break that produces powerful barrels.
We have exceptional Costa Rica homes at or near the best surfing spots.