Pristine white sand cove - Often ranked as Costa Rica's most beautiful beach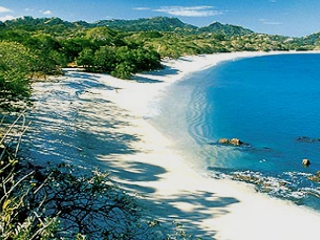 Costa Rica, with its lush rainforests, diverse wildlife, and pristine beaches, has long been a haven for travelers seeking a connection with nature. One of its most alluring treasures is Playa Conchal. In this blog, we'll take a closer look at this exquisite beach and what makes it a must-visit destination. Where is Playa Conchal?
Playa Conchal is located on the Pacific coast of Costa Rica, in the province of Guanacaste. Nestled between the towns of Brasilito and Playa Flamingo, this beach is famed for its unique shoreline composed almost entirely of finely crushed seashells, giving it a unique and exotic appeal. Playa Conchal is the stunning backdrop of the prestigious Westin Reserva Conchal hotel and all inclusive golf resort and the Reserva Conchal residential resort community.
How to Get There from the Airport
The nearest major airport to Playa Conchal is the Daniel Oduber Quirós International Airport (LIR) in Liberia. From Liberia:
By Car: Renting a car is a popular option. The drive is approximately an hour via Route 21 and Route 155, offering a scenic journey through Costa Rica's landscapes.
By Shuttle: Various companies offer shuttle services that can take you directly from the airport to Playa Conchal.
By Taxi: Taxis are readily available and provide a convenient albeit pricier option.
Public Transport: Buses run from Liberia to Brasilito. From Brasilito, Playa Conchal is a short taxi ride or a 15-minute walk away.
Places to Stay in or near Playa Conchal Costa Rica
Reserva Conchal is the home of the Westin all-inclusive resort, W Hotel by Marriott, and private residences available for rental.
The W Hotel is a modern and luxurious resort surrounded by the natural beauty of a lush nature reserve and the pristine, sugar-white sands of Playa Conchal. It stands out as a modern oasis, where guests can enjoy a sense of freedom and adventure. The array of amenities offered includes vibrant dining options in three onsite restaurants, , an infinity pool, a day spa, and pools including an adult-only deck. The hotel features 150 guest rooms-- ocean view, suites, and residences--each designed with a focus on locally inspired décor. These rooms combine modern amenities with a spacious layout, including walk-in showers, to provide a comfortable and stylish stay for guests.
The Westin Reserva Conchal, set on a vast 2,400-acre property, is designed to provide a perfect balance of comfort and luxury, making it an ideal destination for both business trips and leisurely getaways with loved ones. The accommodations at the Westin Playa Conchal include airy villas, guest rooms, and suites, all thoughtfully designed to ensure guests feel completely balanced and at ease. The extensive list of amenities includes a lagoon-style pool, a fitness studio, tennis courts, and a championship golf course. The resort boasts 7 fine dining restaurants and 3 casual eating options, ensuring there is something for everyone.
Private vacation rentals are available in Reserva Conchal for short- and long-term rentals. There are a variety of condominiums and luxury homes where you can enjoy a unforgettable stay. Many of residential communities in Reserva Conchal have their own pool, facilities, and management services.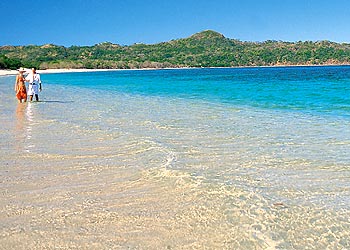 The nearby towns of Brasilito, Flamingo, Potrero and Tamarindo have a number of large hotels and boutique hotel options including:
Margaritaville Playa Flamingo: Located across the street from the beautiful Flamingo Beach and just a short walk to the Flamingo Marina.
Hotel Bahia del Sol: Beachfront hotel located directly on the calm Potrero Bay and next door to the popular sailing center.
Hotel Brasilito: This rustic hotel is located in Playa Brasilito just steps to Playa Conchal Beach Popular Communities near Playa Conchal.
The area surrounding Playa Conchal is dotted with various residential communities, catering to a variety of tastes and preferences. Here is an overview of some prominent communities:
Senderos (formerly Tamarindo Heights) is a unique gated community in Playa Tamarindo. The new administration in 2019 brought new construction and investment in the community for a new start and more amenities. The modern infrastructure features underground utilities and enjoys an excellent location at the entrance of bustling Tamarindo. It's strategically located behind the Garden Plaza, a shopping center with the area's largest grocery store, Automercado, as well as shops, boutiques, and restaurants.
Tamarindo Preserve, located in exclusive Playa Langosta, is composed of several real estate communities around the vibrant town center that share a spectacular luxury beach club with fitness center, French restaurant, upscale bar and resort pool with cabanas. Living in Tamarindo Preserve is about being part of the most desirable property at the heart of the world's number one eco-tourism destination - spectacular Tamarindo Bay.
Reserva Conchal is a very prestigious 2600 acre community alongside the pristine white sands of Playa Conchal. It's conveniently located 10 minutes from the new Flamingo Marina and 15 minutes from charming Tamarindo. Reserva Conchal offers the world-renowned 18 hole Reserva Conchal golf course and a spectacular beachfront owners club with fitness center, pool, bar, restaurant and spa. The stunning five-star Westin golf resort with its amazing lagoon style pool and the W Costa Rica hotel are within the complex. Reserva Conchal boasts lush tropical gardens and protected green spaces. While golfing or strolling through gardens, you will often see exotic birds, howler monkeys and iguanas.
Hacienda Pinilla, Costa Rica's premier beachfront golf and equestrian community, is a stunning 4,500 acre property situated on the famous Costa Rican Gold Coast. It boasts 3 miles of pristine beaches (including Playa Avellanas), tropical dry forests, nature reserves and horseback riding trails. The Hacienda Pinilla real estate community is perfect for individuals who desire property with the highest quality luxury and amenities in an unspoiled Costa Rican setting.
Mar Vista features the most beautiful Pacific Ocean view properties on the Gold Coast! The estate lots and homes offer dramatic sunset views overlooking Brasilito Bay and white sand Conchal beach. Mar Vista enjoys a fabulous central Gold Coast location, nestled in the hills between vibrant Tamarindo and the new Flamingo Marina. It's convenient to all the area's world-famous golf, surf, fishing, diving, and eco-tours and has its own fabulous community infinity pool, restaurant, and tennis courts.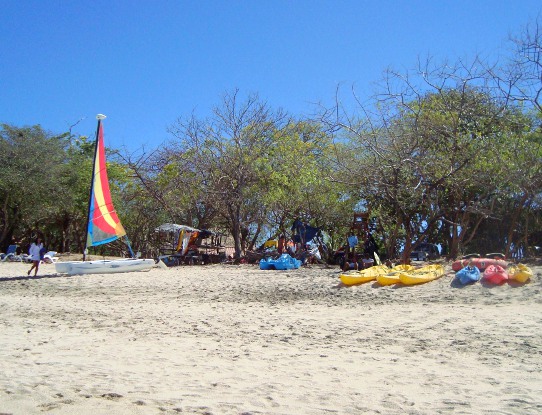 These communities provide a variety of living experiences for both long-term residents and vacationers looking to explore the beauty and tranquility of Costa Rica's Pacific coastline.
Best Restaurants in Playa Conchal
Playa Conchal offers a variety of dining options that cater to all tastes.
Manglar: This seafood restaurant provides a blend of traditional and modern flavors with stunning views.
Plancha Street Food: For those seeking a more casual fare, this place offers delicious local street food.
Mitri's Beachfront Restaurant: A perfect spot for those wanting a mix of local and international cuisine with beachfront views.
Where to Buy Groceries in Playa Conchal
When staying in Playa Conchal, you'll find several convenient options for grocery shopping to stock up on essentials, fresh produce, and local specialties.
Tamarindo--For a comprehensive shopping experience, many residents and visitors head to the Automercado supermarket which offers a wide selection of both local and international goods, catering to a variety of tastes and dietary needs.
Huacas--Closer to Playa Conchal, you can find the Super Compro and Megasuper stores, which are well-stocked with a range of products from fresh fruits and vegetables to household necessities.
Brasilito—Closest of the neighboring beach towns, Brasilito hosts smaller "pulperías" (local mini-markets) where you can pick up basics and enjoy the charm of local commerce. These mini-markets are perfect for grabbing quick snacks, drinks, and unique local items that you won't find in larger stores. For organic produce and artisanal goods, keep an eye out for farmers' markets that pop up weekly, offering the freshest choices while supporting the local community.
What's It Like at Playa Conchal (Conchal Beach)
Conchal beach offers one of the most unique beach experiences in Costa Rica. Its most distinctive feature is its sand, composed of millions of tiny crushed shells that give the beach a dazzling white appearance and a pleasantly soft texture underfoot. The surf is generally gentle, making it excellent for swimming. The clear blue waters are inviting for snorkeling, especially near the rocky areas at the ends of the beach where marine life is abundant. No wonder its often at the top of the list of most beautiful beaches. Here's a comprehensive look at what you can expect when visiting this beautiful destination:
Public Access and Walking Time from Brasilito: Playa Conchal does not have direct public access by car. Visitors typically park in Brasilito and walk over to the beach. The walk from Brasilito to Playa Conchal is a delightful short stroll of about 10-15 minutes. You will traverse the south end of Playa Brasilito and then follow the shoreline around a small point to reach Playa Conchal. Tips on Parking Options: In Brasilito, there are informal parking areas where you can leave your car for a fee. It's important to park in designated areas to avoid any issues. Always make sure to not leave valuables in your car, as with parking in any tourist area.
Access from the W Costa Rica at Playa Conchal: Guests staying at the W Costa Rica – Reserva Conchal have direct access to Playa Conchal, as the resort is located right on the beachfront. This exclusive access allows guests to go from their rooms to the sandy shores in just minutes.
Access from Puerto Viejo: This informal gathering place at the western end of Playa Conchal is popular with locals. If offers another place to park your car and explore. However, this entrance point requires a 25-minute walk to reach the shell-covered section that made Playa Conchal famous.
Best Time to Visit Conchal Beach: The best time to visit is during the dry season, from mid-December to April, when the weather is sunniest and the water is at its clearest. The weather is great for scuba diving, jet ski rentals, or a round on the golf course. However, it's worth noting that this is also the peak tourist season.
Bioluminescence: Nature lovers can experience the natural phenomenon of bioluminescence, where the water lights up at night due to the presence of a specific type of plankton. This usually occurs during certain times of the year and under specific conditions, such as a new moon or no moon.
Available Facilities: Facilities at Playa Conchal are relatively minimal, maintaining its natural beauty. However, if you are visiting through the W Hotel or Reserva Conchal, you will have access to more upscale facilities, including restrooms and restaurants. For day visitors coming from Brasilito or elsewhere, it's a good idea to bring what you need for the day, including water, snacks, and sun protection, as there are limited services directly on the beach.
Remember to check local reports or ask at your accommodation for the latest on surf conditions, bioluminescence events, and any changes to access or facilities before you go.
Summarizing Playa Conchal
Playa Conchal, with its unique charm, beautiful residential communities, and exquisite dining options, offers an experience like no other. Whether you're a beachcomber, food lover, or simply seeking tranquility, this beach is a slice of paradise awaiting your exploration.
Explore Other Popular Beach Communities in the Area
While Playa Conchal is a gem, Guanacaste's coastline is dotted with other beautiful beach communities worth exploring (listed below from north to south).
Discovering Playa Conchal and its neighboring communities offers an opportunity to immerse yourself in the rich, natural beauty that Costa Rica so effortlessly delivers. It's truly a haven that promises memories that will last a lifetime.