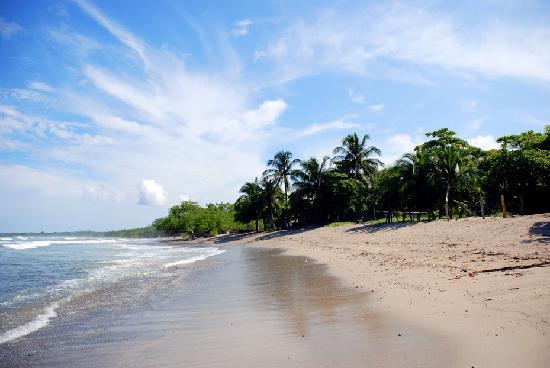 Like Tamarindo, this beach is another Endless Summer II star. Playa Negra, or Black Beach, rivals the famous black sand beaches of the island of Hawaii. It has spectacular rocky volcanic outcrops that create some of the best breaks in the country. It is located just North of Playa Avellanas. Children will enjoy playing in the tide pools at low tide on this beautiful beach.  
Playa Negra is growing in popularity with surfers and non-surfers alike for its wild, natural beauty and proximity to the J.W. Marriott hotel. There are new casual restaurants, health-food bakeries, Internet cafes and clothing shops springing up, as well as some fabulous lots and homes in the area. For those who wished they bought on the beautiful island of Hawaii when it was affordable, this is it. Rancho Playa Negra is a beachfront gated community with 24h security and offers some affordable lots and homes. 
Playa Negra is the perfect location for horse lovers. There are a number of world class equestrian facilities that are in the area offering services from trail rides and beach tours to lessons and boarding. Many people love the tours that can take you seaside or in the hills with sweeping ocean views. Please ask us the names of our favorite equestrian centers. If you are looking for a property in Playa Negra, we have what you need! 
Ask our Re/max Ocean Surf and Sun agents for the latest update.