Food, glorious food.
You might be thinking. What does food have to do with real estate? Well my friends, yes, it gives us basic sustenance. The older we get, the more we appreciate having variety and options in our choices of what we eat. On a hot day, it helps to know that the area that you have chosen to buy has places where you can purchase gelato or fresh fruit. When your friends are visiting, you can be secure in the knowledge that there are establishments here in town known for providing an exceptional dining experience. 
Is it rainy season? Don't want to leave your house? Catching up on news or sports? Probably one of our most unique companies in Tamarindo is our food delivery service TicoToGo. You could actually have food delivered from a wide range of places right to your door through our delivery local company. Not only will they deliver food to your doorstep from over 27 local restaurants, but they also provide a grocery delivery service as well, which you would be hard pressed to find in almost any other beach town in Costa Rica. 
I think you will find that Tamarindo and the surrounding area is not lacking in diverse dining options that are sure to impress for a town of its size. Whether one is looking for healthy, local and organic, international cuisine or simply a really good taco, we have it all. It simply adds to the overall quality of life that can be added here in our amazing slice of the world. 
Rather than give you a list of every restaurant in town and their menus, I've taken it upon myself as a local in the community of over 15 years to try them all out and give you a few examples and highlights of some of the standouts in various categories. Here at Remax we go above and beyond for our clients even if it means eating delicious meals on your behalf in order to provide you with the most current and pertinent information available. The sacrifice on my part was immense but let it be known that there is little I won't do for the good of the team.
If organic, local and healthy is your thing, look no further than La Bodega. It is a cafe and store that prides itself on serving local, organic and sustainable items sourced from Costa Rica as much as possible. Try their fruit, yogurt and granola or their rotating sandwich specials that sell out on a daily basis.
A little further down the road in Langosta Beach is Matty's Deli which serves innovative, unique and creative salads sandwiches and pastries. The fresh squeezed watermelon juice and lemonade are not to be missed! 
If you find yourself in need of a quick, reasonably priced, bite of deliciousness mid day or into the night be sure to make a pitstop at El Chilito for a  taco, burrito, or bowl. Everything is made in house and you won't be able to decide which salsa to pick since they all look like the perfect choice. (quick tip: go with the mango…).
Where are you going for dinner? Sometimes you just need a good steak and excellent service while feeling as if you've been transported to another place. This is when you (and everyone else in town) make a reservation at Patagonia Argentinian Grill. A great glass of Malbec and the chimichurri sauce on everything pretty much makes for a perfect meal. 
Asian Fusion at its finest, when you can't decide if you want Sushi, Thai, Korean, Vietnamese or even Oysters. The answer is that you can have them all at Wok and Roll! one of the best dinning options in Tamarindo for locals and tourist! They do so many things so well that they make it hard for me to decide every time I go there. It's a good problem to have, not to mention that it is also a fantastic place to camp out at the bar for a pre or post dinner cocktail. The member of our team are always ready to go there, even just to have a drink with Kandice!
In addition to Argentinian and Asian food options, we also have Middle Eastern style cuisine available from the Falafel Bar. They specialise in items such as Greek salad, Shawarma Pita, and of course Falafel. Beware of the deadly green fire sauce- eat at your own risk.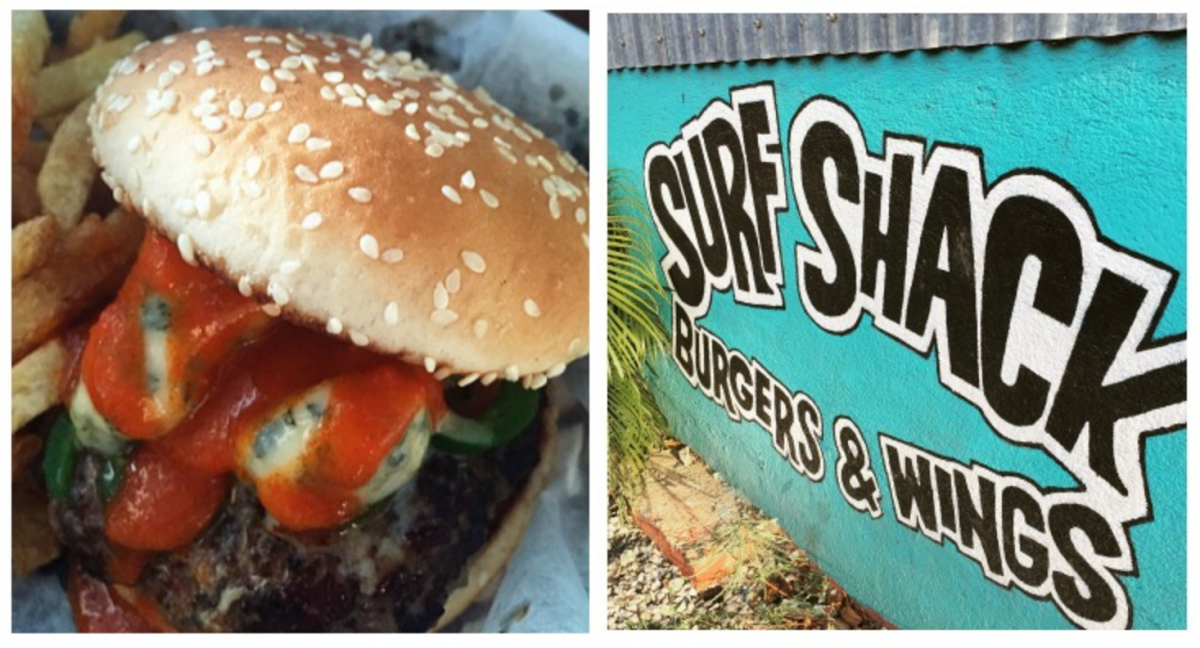 If you ever are simply craving a good old fashioned Cheeseburger and milkshake (or portobello burger for a lighter option), I dare say The Surf Shack Burgers and Wings rivals any version you would find hands down. Not only this, but they pride themselves on being kid and family friendly with special nights such as "kids eat free" with adult entrees and "free fry Fridays". 
I cannot forget to mention the best Italian restaurant in town, Walter's Fish and Cheese. Located in Playa Langosta, this typical Italien fine cuisine restaurant offers the best fresh food you can find in town! They also have a boutique with fresh home made pastas, sauces, cookies, cheese and their wine selection is awesome! Definitely a good address to remember. 
Insider's Scoop: Santa Rita Cafe makes the most perfect double espresso you never knew you needed in your life. They also make the best smoked salmon/cream cheese sandwich ever. They are conveniently located right next to our RE/MAX office thus keep our hard working agents fed and happy! Que Rico! 
I haven't mentioned yet all of those good addresses: Sprout (organic fresh food), Flying Bull steak house in front of the Diria Hotel, the very well established Pizzeria La Baula, Sharkys bar and grill (best fish n'chip!), Dragon Fly next to La Baula and the Shrimp Hole for the seafood amateurs. And a few other food type suggestions beyond restaurants: taking advantage of our proximity to the ocean makes most of us want eat more seafood. One of our town's best kept secrets is Pedro's where anyone can go and get an assortment of daily caught fresh fish at wholesale prices such as  tuna, lobster, shrimp, and whole red snapper to name a few. 
In case you haven't gathered by now, Tamarindo provides a ton of culinary advantages for anyone who might be considering a move here. Dietary restrictions can easily be catered to, and though you may start with a few of my suggestions, you'll soon find that you've come up with your own favorites list because not only is there plenty to choose from here, but the quality of the options are some of the best in the country. If you would prefer to find out what is available and kept secret outside Playa Tamarindo, look at this blog from another Epicurian in our office!
Now that you know that your food needs will be met and surpassed here in Tamarindo, feel free to stop by our office any time you'd like to talk about your real estate options here and our team would love to tell you all about what we have to offer over that perfect espresso I mentioned. Bon Appetite.
This page has been written by Derrick Poelsma, one of our Epicurian agent :)