Many people around the world and in the country call Costa Rica the "Switzerland of Central America" for both the outstanding green landscapes and also for the fact that we strive for democracy and have no standing army. As beautiful as Costa Rica may be, it has areas that stand out the most. Amongst those is the most sought after and desired area to be in for both expatriates and national residents, the North West Pacific coast, also called the Gold Coast. 
The northwest coastline stretch of land in the northern area of Guanacaste is well known for its five-star resorts, pristine white sand beaches, dry tropical forests, quaint boutique hotels, it's vast variety of gastronomy, adventure tours and first-class waves for surfing. The reputation of this area is also confirmed by its convenience factors such as the proximity to the Daniel Oduber International Airport (LIR), which is the best airport to fly into when coming to CR if you are planning to spend your time on the Gold Coast. After landing in Liberia, you are only about an hour away from all of the places and activities you could wish for.
Another very practical advantage is that you can definitely stay in a hotel or resort for the entirety of your trip and then from there venture out each day to explore something new in the area. Playa Tamarindo and Playa Flamingo are both central to the majority of places you'll want to see and have a variety of accommodation types for all budgets.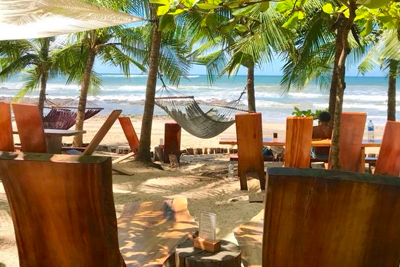 It is evident that an area with these characteristics is a definite no-brainer when it comes to deciding where to go on vacation in the tropics, and because of the same reasons, the Gold Coast has gained popularity amongst retirees throughout the years. It is a tourist and expat favorite! This area gets the least amount of rain in the entire country, making it the sunniest region of Costa Rica. Visitors and residents alike have a variety of areas to choose from, from busy resort towns to expat communities, from isolated beaches to laid-back seaside villages, and many more. For retirees and tourists, life here is about surfing, fishing, shopping at charming farmers markets where you can buy fresh off the boat seafood, and lazing away the day on the sand. There are dozens of beaches in the Gold Coast but check out my personal favorites below:
Playa Tamarindo: A vibrant surfing town with an amazing nightlife and a very big and eclectic expat community that live here full time. And also where our Remax office is situated.
Playa Danta: Absolutely gorgeous and small beach with a perfect view of the Catalina Islands. It is also home of Las Catalinas development, an Italian architecture luxury beachfront community with neighborhoods and grocery shops.
Playa Conchal: Picture perfect turquoise water beach, home to the beachfront luxury residential and golf community of Reserva Conchal, with two five star resorts. Its name is due to its sand being made completely of tiny little shells.
Playa Avellanas: Beach community and all time favorite of local and international surfers for its world class swells and home of the famous beachfront Lola's restaurant, a sunset cocktail here is a must do.

Playa Minas: Isolated piece of paradise, reached through narrow roads only to reach a very rewarding experience in the clear light-blue waters, where you can see rays, different species of fish and even the popular fluorescent plankton at night depending the season of the year.
We are sure you will enjoy your time in the Gold Coast to its fullest and it will steal a piece of your heart forever. Come check it out and let us know your thoughts!
Derrick Rowland, RE/MAX Administrative Assistant