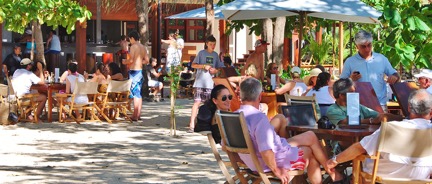 Las Catalinas is a beachfront town, a gated community with no wall; it is a lifestyle that you will love! Lets talk about the details. The founders of Las Catalinas, the principal one being Charles Brewer, have a vision of life and a life style that does not exist anywhere else. A beachfront town that is designed to give privacy, and encourage social life at the same time.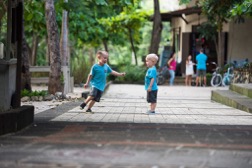 When you are thinking Costa Rica, what comes to mind? BEACH, first and foremost, the Beach. That is what the founders started with, a beautiful beachfront property. They first purchased 1,200 acres of beachfront property, then started building in 2009 and now have over 100 places done and many more under construction.  It started from the ground up, modeling the town with a lot of inspiration from Italy. And when you are walking around, you absolutely feel that vibe.
It is a safe community with no walls. It is designed to be inviting and that is exactly what it is. The community is very secure and you feel safe. There is nothing like Las Catalinas in Costa Rica. A true destination where you can vacation and have it all.
No two places are the same at Las Catalinas. They host a triathlon every year, with the largest mountain bike trails around. Las Catalinas says I have brought more clients and had more sales than any other real estate agent. Well… That's good!  I am a believer.  This is a good investment, a great place to vacation and I think you are going to love it! I started taking clients to Las Catalinas in 2011 and that is when I sold my first lot there. Since then, I have helped four more buyers get their piece of paradise.
I just sold another beauty, see the picture of the ocean they will have from the living room! My name is Chris Spears, a long time fan and believer in Las Catalinas. Contact me today and let me wow you with beautiful, amazing, incredible and spectacular in LAS CATALINAS!