RE/MAX Ocean Surf of Tamarindo is proud to have been among the sponsors for the Have a Heart Charity Golf Event at Hacienda Pinilla, where many generous hearts gathered in February to golf and support education in Costa Rica.
Ninety-four golfers, including Re/Max Ocean Surf real estate agent Jerre West, competed in the Have a Heart golf event. Jerre and his wife Dr. Mary West live at Hacienda Pinilla, and also specialize in Hacienda Pinilla property sales. While Jerre golfed with his team, Mary hosted the ReMax real estate table on the 12th hole.
"Hacienda Pinilla is home for us, so Jerre and I love being part of the Have a Heart tournament," says Mary West. "The players and volunteers have so much fun and the event is for such a great cause. This year we had nearly double the players as we did last year, and we are all thrilled to be able to support local students."
The Friends of Education/Amigos de Educación Have a Heart Charity Golf Event has been raising money for Costa Rica's schools and students for 13 years. This year's tournament was the most successful to date as the Have a Heart organizers continue to grow and apply their years of past experience to host an enjoyable and profitable Costa Rica charity golf event.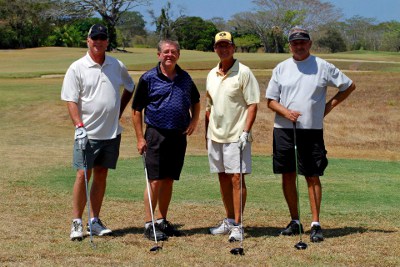 Hacienda Pinilla is a 4,500 acre beachfront golf resort situated just 15 minutes south of famous Tamarindo. In addition to luxury homes, lots and townhouse villas, the Hacienda Pinilla resort also boasts three miles of pristine beaches, equestrian facilities, a J.W. Marriott Hotel, and a fabulous 18 hole signature golf course designed by Mike Young where the Have a Heart tournament was held.
Participants of the Have a Heart Charity Golf Event enjoyed an excellent tournament lunch provided by the new Pangas Tamarindo Restaurant, and delicious desserts donated by the Playa Grande Baker's Co-Op.
Have a Heart Tournament Results
1st - Chris Fierbaugh, Mike Twigg, Kevin Fraga, Ken Newton
2nd - Charles Fisher, John Logan, Joost Hauwert, Ricardo Canas
3rd - Alex Bidorini, Tony Fabrizzio, Lisa Garrett, Steve Cascante