During our due diligence process with first time buyers in Costa Rica, our RE/MAX agents generally show clients a variety of property types including Costa Rica condos, homes and lots. We also tour multiple Guanacaste Gold Coast communities, each of which has its own distinct personality, so that clients can find the right fit in terms of both property and location.
Many of our real estate investors start out with the dream of purchasing one of our luxury homes, but after some deliberation, decide that a condo would be better suited to their lifestyle. What makes some buyers choose condos over homes or lots?
Costa Rica Condo = Convenience
The first and most obvious reason that foreign investors end up buying a condo instead of a home can be summed up in one word: convenience. Many foreign owners intend to use their property for only part of the year, and managing their investment from overseas can seem daunting. The beauty of owning a condo is that much of the daily maintenance is cared for by a Home Owner's Association (HOA).
As in North America, the condo HOA at is made up of owners who establish a monthly fee to cover the common costs of maintenance. Usually the HOA meets annually, and the association appoints a company as an HOA manager to oversee HOA related items over the course of the year. Prior to purchasing, it is important to determine what is and what is not included in your HOA fee.
In addition to exterior building maintenance, common gardens and pools, and security, some HOA fees may also cover insurance on the master property and exterior of buildings, a/c cleaning, and access to facilities such as beach clubs or fitness centers. Typically, HOA fees do not cover interior cleaning and maintenance of your individual condo or insurance of its contents. These matters are often cared for by your personal property manager, who may also be responsible for paying your bills and handling vacation rentals or long term tenants.
Costa Rica Condo = Income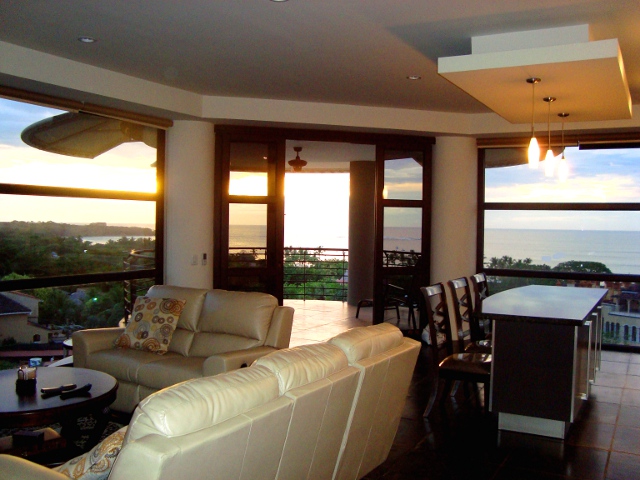 Which bring us to our second benefit of buying a condo in Costa Rica: income. Many foreign investors choose to rent their properties when they're not using them to offset the costs of ownership.
Short term Costa Rica vacation rentals have experienced a significant jump this year due to the increase in passenger traffic through the expanded International Liberia Airport. And longer term rentals of one year or more are also becoming popular, particularly with foreign families who have children attending the much sought-after schools in the Tamarindo, Flamingo and Conchal areas of the Gold Coast.
Many investors hire property managers to market their Costa Rica condo as vacation rentals. If you intend to generate income with your real estate investment, your property manager can advertise the condo for rentals, book reservations, and care for guests when they arrive. Some owners also participate in the marketing of their condo via sites like VRBO and Airbnb. When property managers and owners work together to book vacation rentals, occupancy rates and overall income tend to be higher.
It is normal for condo property managers to charge a flat fee (approximately $125 - $150/month) to cover bill payments (including utilities, taxes and HOA fees), provide cleaning services and ensure that the interior of your condo is kept in good condition. Your property manager will also receive part of the rental income, typically 20% depending on who makes the reservation - the owner, the property manager or a cooperating agency.
Costa Rica condos can be more attractive to vacation renters than private homes since they are more likely to offer resort-style amenities such as large pools, restaurants, gyms, tennis courts and even signature golf courses. Better still, many condos are very well situated near beaches and town centers, which is appealing to owners and renters alike.
Costa Rica Condo = Location, Location, Location
The third benefit of owning a Costa Rica condo is related to the first rule of buying real estate: location, location, location. While many foreign investors imagine owning fabulous beachfront Costa Rica luxury homes or huge ocean view estates, the reality is that the cost of these properties is beyond the financial scope of most buyers, particularly since their Costa Rica property will not be their primary residence.
On the other hand, Costa Rica condos allow foreign investors to enjoy great locations at affordable prices. They can purchase on or near the beach, steps to restaurants, shopping and nightlife at a fraction of the cost of buying a home in a similar location.
Although owning a condo in Costa Rica is not right for everyone, it's a choice that appeals to a wide variety of foreign investors due to the benefits of convenience, income-generating potential, and great location opportunities. Your RE/MAX agent can help you to decide which type of property best suits your lifestyle as you embark on your Costa Rica adventure.  Why not browse our extensive list of condos for sale?