According the first quarter reports for 2013 just released by the Foreign Trade Corporation of Costa Rica (PROCOMER),  Costa Rican exports are up 3.5% over the first three months of 2012.  Statistics show that Costa Rica exported USD $3.019 billion in assets, which is a USD $101 million increase over the first quarter of 2012.
Export goods in processing industries demonstrated strong growth of 10.3%, from USD $1.524 billion to USD $1.682 billion during the first three months of the year. The growth of the last 12 months is 6%.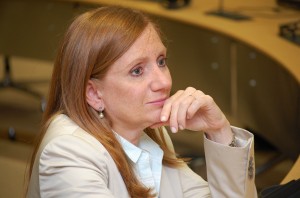 Anabel Gonzalez, the Minister of Foreign Trade and President of the Board of PROCOMER, stated "It is clear that the international economic situation is not the best. Even recently, the IMF revised its 2013 growth projections down, both in advanced economies and emerging. However, [Costa Rica] must seize the opportunities in regions and countries where we have established a trading platform and where growth rates are more robust, as in the case of Asia, as well as countries such as Peru, Chile, Central America and Colombia."
The growth in this quarter compared to the same period of 2012 is due to positive results in livestock and fisheries (3.7% increase) and industry (8.1% increase). The livestock and fisheries sector had sales of USD $77.1 million, while the industrial sector had sales of USD $2.307 billion. There was a decline in agricultural exports, mainly as a result of the reduction in international coffee prices.
PROCOMER General Manager, Jorge Sequeira, emphasized the importance of maximizing established trading platforms, the need for diversification of products and destinations, and the necessity of increasing Costa Rica's product offerings with added value.
"Exports of goods to the United States, our largest trading partner, grew by 6.7%, but so did, for example, shipments to China (23.8%), CARICOM (5.2%), and Canada (14.5%).  PROCOMER continues to seek new opportunities to place more value-added products in international markets, participating in trade fairs and missions industries with products such as video games in the United States, aviation in Canada, Mexico automotive, food in Europe and specialized industries in Panama, among other efforts, " said Sequeira.
North America continues to be the main destination of Costa Rican exports (with a share of 43.4%). The amount exported to this region increased from USD $1.240 billion to USD $1.309 billion (5.6%). The European Union came in second with an increase from USD $563.2 million in the first quarter of 2012 to USD $ 583.4 million in 2013 (3.6%), followed by Asia, which grew from USD $392.2 million to USD $427.8 million (9.1%).