Costa Rica seeks to further diversify renewable energy sources
Many Costa Rica property investors and tourists are drawn to Costa Rica because of its green philosopy and eco-conscious perspective. Costa Rica is at the forefront in Central America for encouraging energy production from renewable energy sources, and the Costa Rica Electricity Institute (ICE) has just announced its intention to further diversify its renewables.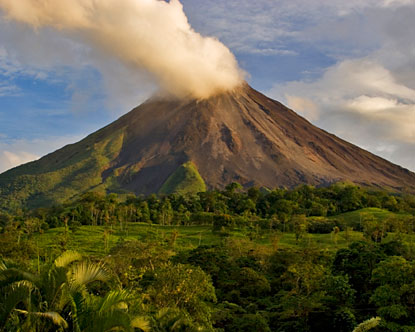 Plans include expanding the use of geothermal energy, increasing wind generation, as well as exploring solar energy production. Regulations governing ICE say that electricity generation must stem from renewable resources.
Currently, 93% of Costa Rica's electricity is generated by renewable resources. 76% of that renewable energy comes from hydroelectric generation.  The second most utilized renewable energy is  geothermal energy, extracted from the slopes of the country's volcanoes.  Costa Rica has 5 active volcanoes: Arenal, Turrialba, Rincon de la Vieja, Irazu and Poas.
ICE faces some challenges in expanding the use of geothermal energy, however, since the majority of the locations for geothermal extraction are situated in national parks, biological reserves, or other conservation areas where such activity is prohibited.
However, there are currently several bills in the Costa Rican Legislative Assembly which aim to permit the exploitation of geothermal energy from within conservation areas, while taking into account environmental protection, operational standards, and compensation for the resource.
Though there are many sectors that are opposed to the possibility of geothermal extraction in protected areas, supporters state that geothermal energy is clean, does not produce contamination, is not subject to weather, and energy production remains constant throughout the year.  .
In regards to wind energy, Costa Rica is one of the countries in Latin America with the most wind turbine installations. As well, there are two more projects planned, which would produce about 350 megawatts by 2016.
Among the country's programs are systems designed to create distributed energy, which encourages private property owners to produce their own clean energy from biomass, wind, solar, or hydro sources, reducing or eliminating their consumption from the grid; use of solar energy in remote areas without electricity, in which solar panels have already been installed at rural schools, health clinics, and some homes; as well as the purchase of biomass energy from agribusinesses.