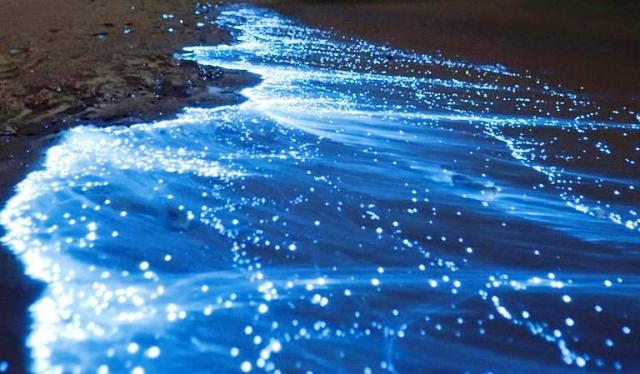 Bioluminescence is one of the most overlooked and yet most spectacular experiences one can have when visiting our beautiful slice of paradise. A light show at night that takes away the breath of everyone who tries it. Firstly, bioluminescence is the result of a chemical reaction in the algae, these are called Dino-flagellates. They are extensively spread in the Atlantic and Pacific Oceans. The glow is the algae's defense mechanism towards predators, the algae evolved to a point where they can produce a light through a chemical reaction when they feel threatened.
This type of algae needs a certain temperature and biological conditions to thrive. Although the algae are widespread, there are certain areas that have better conditions, and therefore higher concentrations of the algae. There are four categories of bioluminescense; none, occasional, seasonal and permanent. Permanent occurrence, which means it can be seen any day of the year, is the most sought after and rare of these categories. And lucky for us, that's the type we have here in Costa Rica. It is atypical because it can only be found in unique areas in a few countries in the world like; Costa Rica, Puerto Rico, Thailand and Tasmania.
You can't predict bioluminescence. Conditions have to be perfect for it to occur. But those conditions take place most often in the tropics. There have been recorded incidents where miles of beaches glow. Costa Rica also has its bioluminescent hot spots. The Osa Peninsula regularly has bioluminescence as do the beaches of the Gulf of Nicoya. However, almost all beaches report bioluminescence including the very popular Tamarindo, Minas and Manuel Antonio beaches.
Ways to Experience It
Snorkeling – Night snorkeling is a great way to get up close and personal to this phenomenon. Vendors in both Costa RicaManuel/Antonio and Flamingo Beach offer night snorkeling tours. You will feel like you're swimming among the stars on bioluminescent nights. With a special underwater lamp you can also see many different species of fish and other marine life not normally active during the day.
Kayaking – This is a totally different experience at night. Feel your senses come alive as your eyes adjust. Relax and an exciting new world opens up with the splash of fish and the call of night birds from the shore. Kayaking into bioluminescence is a special treat. With every stroke of your paddle you churn up an explosion of lights. One of the night kayaking tours in Manuel Antonio includes a stargazing stop at a nearby island where you can enjoy wine, crackers and cheese.
Mangrove boat – If you would like to experience bioluminescence but don't want to sit on the water (in a kayak), nighttime mangrove boat tours are also available. This is a relaxing way to experience estuary wildlife without having to do the paddling. A guide explains what you're seeing and he knows where to look. With the aid of a light you will likely see sloths, caimans, crocodiles and night birds.
This experience has to be in your checklist for your vacation in Guanacaste, a true natural show that stuns even the most skeptical. Have you seen bioluminescence in Costa Rica before? Where? Tell us about your experience!