Surfing, Golfing, Fishing . . . and More!
There are loads of things to do in and around Tamarindo Costa Rica. Tour one of the local estuaries at Tamarindo Beach or Langosta Beach by kayak, and be amazed by the incredible eco-systems and indigenous wildlife. Enjoy an eco-tour of a Playa Grande Las Baulas National Park, a sanctuary and nesting site for giant leatherback turtles.
Spend a day on a signature Audubon certified Costa Rica golf course at luxurious Hacienda Pinilla, with beachfront holes and a beachfront club and spa. Surf some of the most renowned breaks in the world at Tamarindo, Langosta, Grande or Avellanas. Or if it's always been your goal to learn to surf, take some lessons at our local beaches with long, gentle waves.
Book one of our Exciting Eco-Tours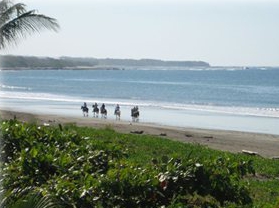 Discover the beauty of our coastline on quads or horseback, or take a thrilling canopy tour through the tree tops. Experience world-class sportfishing at Flamingo Beach, or dive off the Catalina Islands, famous for sharks, manta rays and eels.
Relax and Soak in the Tranquility
Then again, you might just want to soak in the sun on one of the pristine beaches in your ocean view condo, or take a calming dip in the warm blue waters. We have great swimming bays and tranquil coves where you can relax on a nearly deserted tropical beach.
Contact our Costa Rica Vacation Rental Specialist now to book some of our exciting tours and activities, or consider buying your own vacation rental to enjoy year round. Feel free to ask us how we can assist you with your itinerary, car rentals, taxis, shuttles, tours and other travel details. We are more than happy to share our insider knowledge of the best beaches, restaurants, shopping and hotspots. Pura Vida!