Over the last 15 years, Costa Rica has gained popularity in the dental tourism market. A series of factors have made our beautiful tropical country a sought-after destination not only for its amazing eco-tourism experiences and gorgeous beach resorts, but also for the high quality and affordability of its dental and medical care.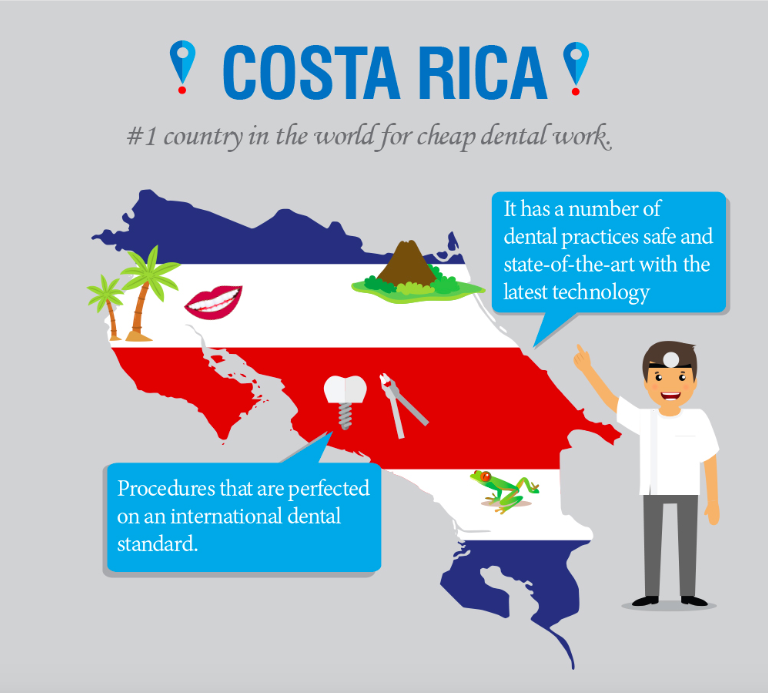 A good example of one of those factors would be that the vast majority of dentists and dental staff are able to speak English. When it comes to medical matters, the ability to communicate effectively and clearly in English is important to many patients. Also, for people living in the United States or Canada, Costa Rica is easy to reach by plane. Flights from North American cities to Costa Rica are affordable and it could take just a 3 hour flight to get here. In addition to that, Costa Rica also has a central American time-zone, which makes the journey much easier.
A thing that makes customers nervous sometimes is the quality standard of their dentists. Fortunately, in Costa Rica, in order to become a dentist, at least 5 years of college are required; the higher education in this country is considered among the best in Latin America and a large number of professionals take it upon themselves to continue their studies abroad. All dentists have to be registered in the National College of Dental Surgeons, which guarantees that a doctor has an active license. It also shows if they are trained and qualified to practice a particular specialty. If you are choosing a reputable clinic or doctor, their livelihood depends on how satisfied and happy the clients are. A bad review can carry a lot of weight! In any case, for preventive reasons only, if your treatment is going to take several appointments, establish the timeline with your doctor but always add at least one or two weeks to your stay if possible. This in the event of complications and/or to make sure that once your treatment is completed, everything is working/looking as it should before you fly back home.
For obvious reasons, people choose to get their treatments done abroad motivated by the possibility of saving some money. When you compare the prices on dental treatments from the US to Costa Rica, you can get the same quality service and materials while saving as much as 75%. Yes, it's very true! For example, you have to pay US$10,900 for a full mouth reconstruction in Costa Rica. However, if you require bone grafting and a sinus lift, the cost of the dental procedure will be US$22,000. This same procedure in the United States would cost you anywhere from US$47,000 to US$ 60,000. Big difference! So what are the reasons behind those considerable price gap?
The lower cost of dental work in Costa Rica is a reflection of the lower cost of living in regards to things related to sustaining the business. Dentists have reduced costs in terms of building rental, wages, taxes and other overheads. Due to this, they can afford to offer their services at lowered rates.

American doctors pay big chunks of money for malpractice insurance to save themselves from negligence lawsuits. Insurance here is way cheaper than in United States.

Most dental clinics offer attractive package deals which include many services for free. You would be charged for those same services in America or Canada, such as consultation

s. 
We can safely recommend the 2 offices below, our agents here at Remax used their services many times over the years and they are both located in Playa Tamarindo, steps to the beach and hotels! 
Tamarindo Dental Center: Dr. Alejandro Leon, 50m north of Automercado, Playa Tamarindo
Pacific Smile Dental Care: Dr. Tatiana Ortiz, In front of Automercado center, Playa Tamarindo
Most residents are able to satisfy their dental needs right here on the Gold Coast. Let us know if we can help arranging your trip!