See all of our Costa Rica Vacation Rentals                About Tamarindo 
   
TAMARINDO VACATION RENTALS
Welcome the finest in Tamarindo vacation rentals!  We've compiled a list of the best Tamarindo vacation rental communities, with a description of each so that you can decide which property best suits you and your vacation style.  We work with only the best located and most luxurious Tamarindo vacation rentals so you can be sure that you will enjoy a fabulous stay here in paradise. 
  
Tamarindo just ranked in Trip Advisor's Top 3 Most Beautiful Beaches in Central America, which is not suprisingly considering its long stretch of soft sand with our quaint town nestled on the south side of the bay, and pristine Las Baulas National Park on the north side. 
Tamarindo is the most popular beach town on Costa Rica's North Pacific Gold Coast due to its charming shops, restaurants, and nightlife. Exciting activities like surfing, eco-tours, paddle-boarding, diving, sport-fishing, golfing, zip-lining, estuary touring and turtle-watching are all convenient to our high end Tamarindo vacation rentals. Soak up the relaxed tropical ambience while enjoying all the best that Tamarindo has to offer. Pura Vida!
LA PERLA
Soak in the Sunsets at this Sleek Hillside Property - 3 Bedroom Condos for Rent with 3 Terraces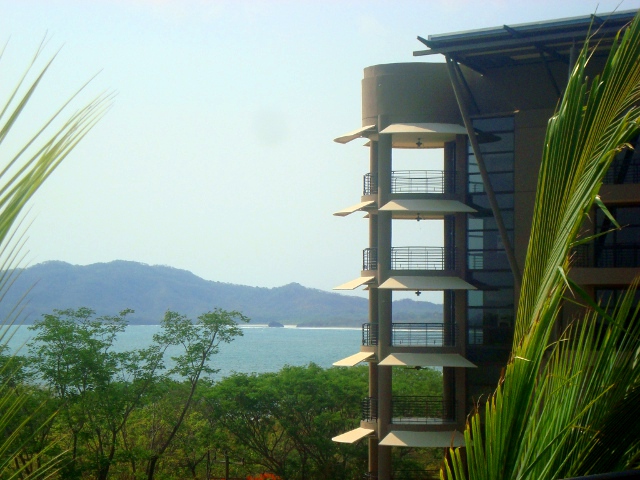 This sophisticated new property is nestled on an exclusive residential hill, only 1.5 blocks from Tamarindo beach and town center. La Perla Tamarindo vacation rentals offer a sparkling resort pool, private gym, ocean view sun terrace, elevators, underground parking, and 24 hour security.  La Perla is a true luxury option of spacious 1,500 - 2,200 ft² condos with two or three bedrooms, two or three private decks, gourmet kitchens, floor-to-ceiling glass, a/c and fabulous ocean views.  The sleek tropical modern design of La Perla will satisfy the most discerning client.
Contact us now to learn more about our La Perla Tamarindo vacation rentals.
TAMARINDO DIRIA
Stunning Ocean View Condos with Huge Resort Pool, Swim-up Bar and Beachfront Hotel Access
This elegant Mediterranean inspired property is situated on Tamarindo's beach road, and boasts beachfront hotel access, freeform resort pool with swim-up bar, elevators, lush tropical gardens, parking and 24 hour security. Cenizaro is a luxury Tamarindo vacation rental of two and three bedroom condos, each with spacious private deck, arched ceilings, gourmet kitchens, and spacious 1,500 - 1,800 ft² floor plans.  Walk to Tamarindo's wonderful shops, restaurants and nightlife.
Contact us now to learn more about our Cenizaro condominiums.
SUNRISE TAMARINDO
Deluxe Beachside Condos with Resort Pool, Steps to Restaurants, Shopping and Nightlife
This popular property is located on Tamarindo's beach road, steps to wide sandy beach and vibrant town center. Sunrise Tamarindo Condos are a deluxe, family friendly option featuring a large resort pool with waterfall, elevators, parking, commercial center and 24 hour security. Sunrise consists of 3 residential towers with fully equipped 1,100 - 1,800 ft² two and three bedroom Costa Rica condos with beautiful ocean or pool views, large private decks, and a/c.
Contact us now to learn more about our Sunrise Tamarindo vacation rentals.
THE POINT
Spectacular Beachfront Point Separating Tamarindo and Langosta Beaches - Rent Luxury Homes
This luxurious property offers two types of vacation rentals: private homes with full or plunge pools, and chic two and three bedroom condos with indigenous wood ceilings, granite counters and decks. The private homes are situated on a beachfront point with access to both Tamarindo and Langosta beaches, while the condos are located on Tamarindo's beach road, steps to the town center and beach. All rental properties have access to the exquisite beachfront club with large pool and fitness center.
Contact us now to learn more about The Point.
HACIENDA PINILLA
Costa Rica's Premier Oceanfront Golf and Equestrian Resort with 3 Miles of Pristine Beaches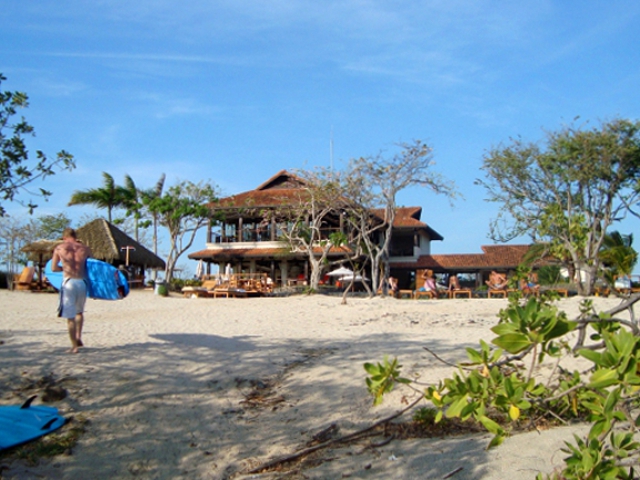 This spectacular 4,500 acre property is situated just 10 minutes south of Tamarindo. Hacienda Pinilla boasts 3 miles of pristine beaches, 18 hole eco-golf course with beachfront holes, beach club with lounge and spa, tennis courts, gym and equestrian facilities. Hacienda Pinilla has extremely luxurious golf homes for rent and beachfront homes for rent, as well as private two and three bedroom townhomes villas of 2,300 - 4,000 ft² with two stories and two large terraces. Experience the best of Costa Rica beachfront living at Hacienda Pinilla!
Contact us now to learn more about our Hacienda Pinilla vacation rentals.
CASABLANCA
Experience the tranquility at this boutique Costa Rica property of five Charming Beachside Homes
This boutique property is located on the Tamarindo beach road in a peaceful residential area. Casablanca consists of five private two and three bedroom residences surrounding a sparkling central pool and nestled in mature tropical gardens. Casablanca is fully walled and gated with secure parking and beach access via a path leading to the best stretch of swimming in the bay. These two and three bedroom homes are ideally suited to visitors desiring a tranquil Tamarindo vacation rental.
Contact us now to learn more about Casablanca vacation rentals.
CASA DEL SOL
Breathtaking Eco-Friendly, Low Density Costa Rica Property — Steps to 3 Unspoiled Coves
This stunning boutique property of 18 units enjoys a tranquil location ½ block from white sand Playa Penca. Only 10 minutes north of the quaint beach towns of Flamingo and Potrero and ½ hour from Tamarindo, this pristine cove is perfect for visitors looking to get away from it all. Penca Blanca offers deluxe two bedroom, two bathroom condos nestled in lush tropical gardens with a large resort pool and Jacuzzi. The luxurious condos each have private terrace, a/c and come fully equipped. Penca Blanca has 24 hr security and secure parking.
Contact us now to learn more about Penca Blanca condominiums.
PALMAS DE TAMARINDO
Huge Resort Pool with Rancho - Perfect Location for Exploring Costa Rica's famous Gold Coast
These bright one, two and three bedroom condos overlook a large pool and entertaining rancho. The Tamarindo Palms is a new property situated on the Route of the Sun trunk road that feeds the Gold Coast's best beaches so is great for exploring this panoramic coast, and is a short 5 minute drive to the beautiful Hacienda Pinilla signature golf course. Each unit comes fully furnished and equipped with a/c, new furnishings and terrace with pool views.  The Tamarindo Palms property offers 24 hour security, gated entry, gym and secure parking.
Contact us now to learn more about the Tamarindo Palms property.
BOUGAINVILLEA - RESERVA CONCHAL
Luxury Beachfront Golf Resort with Stunning Oceanfront Owner's Club and White Sand Beach
Bougainvillea — These lovely colonial-styled condominiums sit golf front on a signature Robert Trent Jones II, 18 hole golf course and offer stunning fairway and ocean views. Bougainvillea is part of a 2,600 acre beachfront resort with white sand beach, private owners club and spa. Bougainvillea offers two, three and four bedroom condominiums with luxurious finishings, gourmet kitchens, large view terraces, a/c, and parking. Ideally situated between Tamarindo and Flamingo beaches, this is a true luxury option.
Contact us now to learn more about Bougainvillea vacation rentals.
BOCA RACA
Luxurious Tamarindo Condos for Rent with a Fabulous Town Center Location - Steps to the Sand!
This high quality property is located in the Tamarindo town center, only ½ block from the magnificent wide sandy beach. Bocaraca features a central pool and koi pond, and consists of 16 luxury condos in 2 residential towers with elevators, underground parking and 24 hour security. Each Bocaraca condo comes fully equipped and offers private terrace, deluxe finishings, a/c, and beautiful pool or ocean views. Excellent Costa Rica condo rental for vacationers who want to be in the center of the action!
Contact us now to learn more about our Bocaraca vacation rentals.