Tamarindo is famous for its spectacular beach, which ranked on Trip Advisor's Top 3 Most Beautiful Beaches in Central America 2012. The town is also renowned for its wide selection of high quality condos in a range of prices. Tamarindo condos provide access to all the vibrant shops, restaurants, nightlife and activities of our charming beach village, and are conveniently located just 45 minutes from the International Liberia Airport. Tamarindo condos are among the most popular Costa Rica Condos, since they are ideally situated in the center of Costa Rica's legendary Gold Coast. The best of Costa Rica's unspoiled beaches and unparalleled eco-lifestyle is literally at your front door.
Our goal is to offer a brief overview of some of the most popular condo projects in the Tamarindo area, and also to familiarize you with the three primary neighborhoods where the majority of beach condos are situated: (1) Tamarindo Town Center; (2) Langosta Point, and (3) The Beachfront Golf Resorts. As part of our due diligent process, we nornally tour all three locations with our clients so they can determine which community of condos is best suited to their needs.
Tamarindo Town Center Condos
The Tamarindo town center runs along the beach road and includes local landmarks such as the Tamarindo Circle and El Diria Hotel. Most condos in the town center are situated across the street from the beach or along the main road leading back from the beach and circle. Condos located in the town center are exceptional for vacation rental and lifestyle investments, since they are truly pedestrian friendly. You and your guests can enjoy all the activities  of our magnificent sandy beach and amenities of our charming village without a car. Popular town center Tamarindo condos are:
DIRIA –Located on the Tamarindo Beach Road. Luxurious Mediterranean-inspired property and one of the most popular in Tamarindo for its affiliation with the landmark El Diria Hotel. These Tamarindo beach condos offer beachfront hotel access, huge lagoon pool with swim-up bar, tennis courts, lush tropical gardens, parking, elevators and 24 hour security.
The Tamarindo Diria condos are situated in three buildings, the Original Diria Building, the Cenizaro Building, and the Matapalo Building.  They come in 2, 3 and 4 bedroom (penthouse models), and boast private terraces, vaulted ceilings, and gourmet kitchens.  All units face the gardens and lagoon pool, and upper units also boast beautiful  ocean views. These Diria condos are walking distance to all Tamarindo's wonderful shops, restaurants and nightlife.
SUNRISE – Located on the Tamarindo Beach road, one block from the El Diria Hotel. Deluxe, family friendly option featuring a large resort pool with waterfall, elevators, parking, commercial center and 24 hour security. 
The Tamarindo Sunrise condos very popular with investment and lifestyle buyers due to their excellent town center location, steps to our wide sandy beach and vibrant town center. Sunrise consists of three residential buildings with fully equipped 1,100 - 1,800 ft² two and three bedroom condos with beautiful ocean or pool views and large private decks.
LA PERLA - Nestled on an exclusive residential hill, 1 block behind the Tamarindo Beach road and a 2 block stroll to the beach. The newest resort in town, these sleek Tamarindo condos embody sleek tropical design. La Perla Tamarindo condos feature a sparkling resort pool, owner's clubhouse, gym, ocean view sun terrace, elevators, underground parking, and 24 hour security.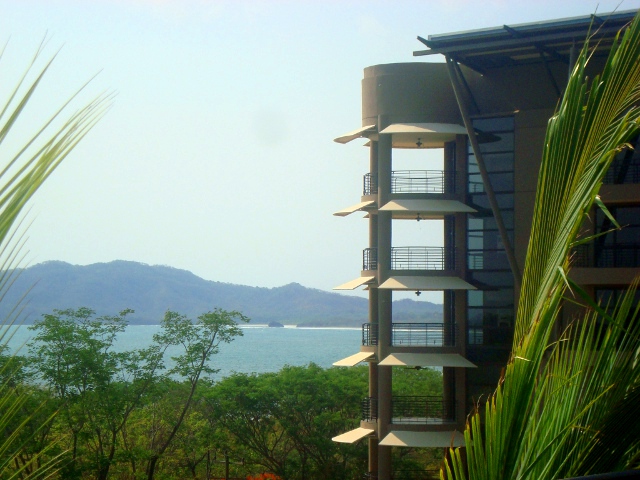 La Perla a true luxury option with spacious 1,500 - 2,200 ft² residences with two or three bedrooms, two or three private terraces, gourmet kitchens, floor-to-ceiling glass, a/c and good to fabulous ocean views. The modern aesthetic of La Perla condos will appeal to the sophisticated buyer looking for modern design elements.
BOCA RACA - Upscale Tamarindo condos just one block off the main beach road, near the El Diria Hotel. This property is located on a quiet side street of the Tamarindo town center, only ½ block from the beautiful sandy beach. 
The Boca Raca condominiums are situated around a central pool and koi pond, and consists of 16 luxury condos in 2 residential towers with elevators, underground parking and 24 hour security. Each of Boca Raca unit comes with a private terrace, deluxe finishings, a/c, and lovely pool or ocean views. This is a great Tamarindo condo project for buyers who want to be in the center of the action.
Langosta Condos near Tamarindo
After the Tamarindo Circle, the beach road follows the coast out to an upscale point known as Langosta. Millionaires Mile consists of Costa Rica luxury homes and several communities of luxury Langosta condos located along a stretch of coastline with some great surf spots and a quiet, pristine beach. Langosta is anchored by the Barcelo Hotel at the end of the point, and has several restaurants and a small grocery store. Langosta condos are situated anywhere from 10 – 20 minutes walk into the Tamarindo town center, and are perfect for buyers looking for a quiet residential atmosphere close enough to amenities to also work well for lifestyle and rental investment. Popular Condos at Langosta Point include:
CASABLANCA - Boutique property of 3 private homes and 2 elegant condos located on the beach road between the town center and Langosta point.   5 – 10 minute stroll to the town center.
Casablanca Tamarindo enjoys a tranquil location in a peaceful residential area. Casablanca consists of 3 private two and three bedroom residences surrounding a sparkling central pool and nestled in mature tropical gardens. Casablanca is fully walled and gated with secure parking and beach access via a path leading to the best stretch of swimming in the bay. These two and three bedroom homes are ideally suited to visitors desiring a tranquil Tamarindo vacation rental.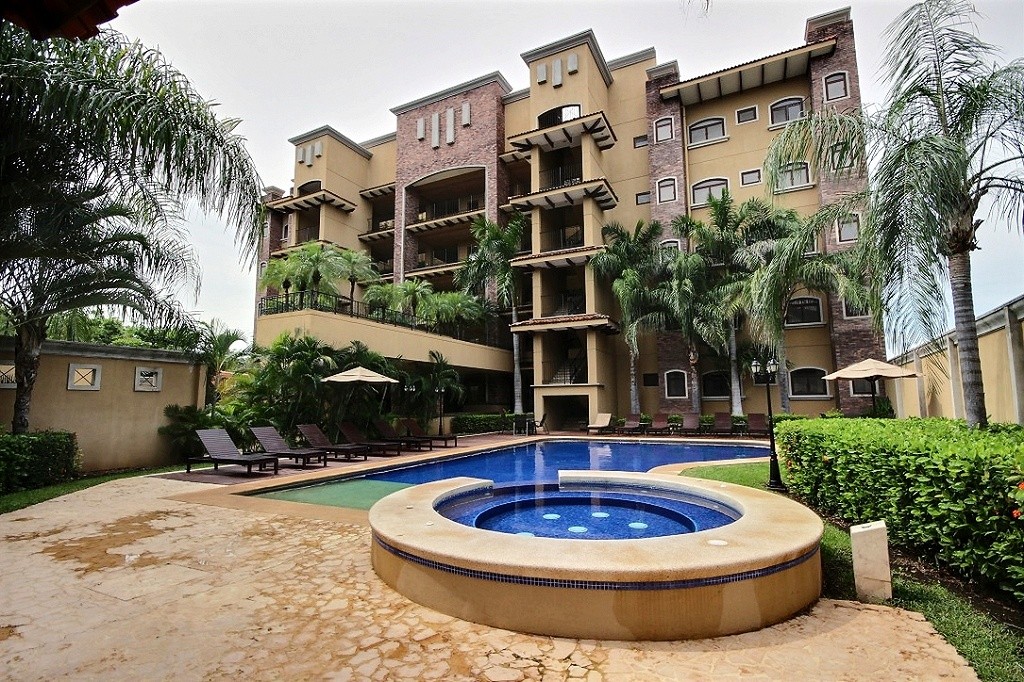 CRYSTAL SANDS – Spectacular beachfront location with panoramic views towards both Langosta and Tamarindo beaches. 10 minute walk to the Tamarindo center.
Crystal Sands Costa Rica offfers luxurious fully titled beachfront condos with the finest of Costa Rica's tropical living. These sprawling condos boast over 3500 square feet of tropical living space with ocean front terraces and world-class views. Some models have private Jacuzzis on the terrace, and the story penthouses are sure to make your jaw drop. The resort offers a large pool, BBQ area, elevators, underground parking, and 24 hour security. The best ohe best!
NAXOS – Deluxe tower of condos on the beach road at the tip of Langosta point, near the Barcelo Hotel.  20 – 25 minute walk to the town center.
Naxos condominiums are located across the street from the beach at Langosta point, and enjoy a lovely resort swimming pool with outdoor BBQ area, elevators, secure parking and 24 hour security. These modern condos come in 1, 2 and 3 bedroom models, boast kitchens with stainless steel appliances, offer good to spectacular ocean views on the upper floors. 
PENINSULA – Deluxe tower adjacent to Naxos and built by the same developer. Situated at the end of Langosta Point, near the Barcelo Hotel.  20 – 25 minute walk to the town center.
Peninsula condos at Langosta point are located across the street from the pristine beach. The resort boast a large pool surrounded by tropical gardens, elevators, secure parking, a gym and 24 hour security. These recently constructed condos come in 1, 2 and 3 bedroom floor plans, and offer modern kitchens with stainless steel appliances and good to spectacular ocean views on the upper floors. 
ESQUINA - Elegant development of only 10 Langosta beach condos. Situated on the beach road at Langosta point, across the street from Langosta Beach and a protected tropical beachfront park.
The 2 and 3 bedroom Esquina residences offers gorgeous architecture, beautiful resort pool, tropical gardens and rooftop stargazing deck. Extensive use of natural materials such as teak ceilings and granite counters makes this a very luxurious option.
CERCA DEL MAR –  Stunning boutique community of 10 residences on the beach road at Langosta Point. Across from Langosta beach and 20 minute walk to the Tamarindo center.
Each of these gorgeous two story townhomes boasts a private courtyard and pool. The finishings are unique, with custom tile, pillars, interior water features and open-air showers. Very chic and private. The homes offer two bedrooms plus office or three bedrooms.
IBIS – Eco community of 10 Langosta condos, on the beach road just across from the Langosta Beach Club. 5 – 10 minute stroll into the town center.
This small property of 2 and 3 bedroom condos enjoys access to the luxurious Langosta Beach Club, with oceanfront pool, fitness center and French restaurant. The condos look out towards the beach club across the street, or towards a peaceful salt water estuary situated behind the condos. Use of local hardwoods and stone gives the Ibis condos a cozy tropical ambience.
COURTYARD VILLAS - Elegant property with an enviable location across the street from the beach at upscale Langosta Point. 20 minutes walk to the Tamarindo town center.
Courtyard Villas are gorgeous Moroccan - inspired homes featuring 3 bedrooms, 3.5 bathrooms, private pools and stunning rooftop jacuzzis. The Courtyard Villas overlooks a stately palm lined tropical courtyard with fountains. They boast many luxury finishes including teak ceilings, stainless steel appliances, and rooftop sitting area for enjoying the warm tropical ocean breezes.
This community has only 10 residences, with spacious 2 story floor plans.  Most units offer an open-living area with master bedroom and bathroom with half bathroom on the main floor, and two bedrooms and bathrooms on the second. This affordable option is perfect for those looking for a residential atmosphere within seconds to access the beach. 
The Beachfront Golf Communities of Tamarindo
Tamarindo is flanked by two five star beachfront golf resorts: Hacienda Pinilla to the south and Reserva Conchal to the north. These two resorts are among the most luxurious communities in all of Costa Rica with fabulous international hotels, spas, gyms and signature Costa Rica golf courses. Though Hacienda Pinilla and Reserva Conchal are not situated in Tamarindo proper, they are considered part of the community of Tamarindo luxury condos since guests and owners visit the town regularly for grocery shopping, restaurants, nightlife and activities.  
HACIENDA PINILLA – This 4,500 acre beachfront golf and equestrian resort is situated just 15 minutes south of Tamarindo. 
This spectacular property boasts 3 miles of pristine beaches, J.W. Marriott Hotel, 18 hole eco-golf course designed by Mike Young, beach club with lounge and spa, tennis courts, gym and equestrian facilities. In addition to its luxury lots and homes, Hacienda Pinilla also offers several phases of townhome villa style condos.  Each condo-villa offers two stories, two or three bedrooms,  2,300 - 4,000 ft² of elegant living space, and two large terraces.  Each phase of condos also boasts a private pool and gym for owners and guests.
RESERVA CONCHAL -  This 2600 acre beachfront golf resort is situated on a white sand beach just 15 minutes north of Tamarindo.  
Reserva Conchal, nestled in a pristine white sand cove, is home to the J.W. Marriott. Owners and guests enjoy a truly impressive luxury beachfront owners club with oceanfront pool, fitness center, spa and restaurant. There are several phases of condos at Reserva Conchal – Bougainvillea, Maliche, Carao and Jobo. Most of these lovely Mediterranean inspired condominiums offer beautiful views of the Conde Nast award-winning Robert Trent Jones II golf course, and many also boast gorgeous ocean views as well. The one, two, three and four bedroom condominiums at Reserva Conchal offer luxurious finishings, gourmet kitchens, spacious terraces, secure parking and 24 hour security.  If you still have questions we invite you to contact us.  We love helping people find that perfect piece of Tamarindo real estate.