WHY ONE COLORADO COUPLE DECIDED TO RELOCATE TO HACIENDA PINILLA COSTA RICA
In 2005, we were living in Colorado and Mary was consulting for the prison system in Puerto Rico. A funny thing happened! While she was there on multiple occasions; she felt physically better than she had felt in two years. We discovered that the reason was because she had had a number of bouts with pneumonia which had scarred her lungs and the altitude in Colorado made it impossible for her to breathe comfortably. She always felt sick.
On the other hand in Puerto Rico where the air was clean and she was right on the ocean things changed radically for the better. As she and Jerre discussed this, we decided to look at sea level and clean air. We focused on possible relocation to Costa Rica for a multitude of reasons including clean air, proximity to the ocean and a stable government.
In August 2005 we travelled to this country and drove from the northern pacific coast to the southern pacific coast. We began our travels in La Cruz, just a short way from Nicaragua and stayed one or two days in each community including Flamingo, and Tamarindo. We then crossed over the Nicoya Peninsula and drove south to Caldera, Jaco and Dominical with many small towns in between looking for what we believed we would know as the right place when we saw it. In the process of our travels we fell in love with the people and the children of this special country. We discovered a totally different culture and loved our experience.
In Flamingo, which was one of our first stops, we saw a condo that had beautiful views of the ocean and we resolved that we would buy it but decided to forge on to other options. We drove to Tamarindo where we noticed the ReMax Ocean Surf office and decided to check in there. To our surprise and delight an agent took us to Hacienda Pinilla and showed us a condo not 600 meters from beautiful Mansita Beach. After about fifteen minutes we walked out, looked at each other and said "this is it".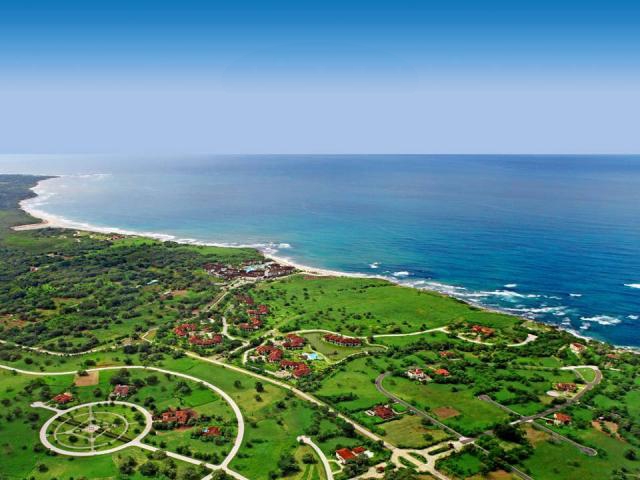 The only problem was the road from Tamarindo to Hacienda Pinilla. It was horrible but we were feeling adventurous and decided we could handle it. We continued our journey to towns south. We encountered more bad roads, and more intense humidity. Also, the further south we went the bugs and critters seemed to multiply. When we arrived at our hotel in Dominical, there was a mosquito net over our bed. This was scary but when we sat outside that evening having a glass of wine the ants and mosquitoes took over and enjoyed our drinks.
That was the death knell for the southern part of Costa Rica. We went home and in a surprisingly easy fashion we were able to buy in Hacienda Pinilla. We moved to our villa in January, 2006 much to the chagrin of many family members and friends. Very often we heard: "Most people don't travel this road! Do you really know what you are doing?" Of course we weren't totally knowledgeable about what we were going to face but went ahead anyway determined to make this work.
It became necessary to drive to Tamarindo and to Santa Cruz on a regular basis for groceries and other supplies. We thought that our backs would never heal as we encountered major potholes on all of our travels. It took us one hour to get to Santa Cruz which is only 17 miles from Hacienda Pinilla. It took at least one half hour to get to Tamarindo. Mary's friend came to visit and took pictures of the potholes and the road because she had never seen anything like it.
H.G. Pattillo from Atlanta, Georgia was the developer of Hacienda Pinilla. He loved Costa Rica and built and gifted many cafeterias and indoor bathrooms in the schools in this area. However, he was as baffled as were the rest of us about the roads. Mr. Pattillo informed us that he had a letter from the President of Costa Rica in 1979 ensuring him that they would be paving the roads. It never happened until NOW!
Last year the road to Santa Cruz was paved and now the road from Hacienda Pinilla to Tamarindo is being paved and has improved immensely. We now sell real estate for ReMax Ocean Surf and have been told many times by clients that they would not buy here because of the roads. We are so delighted to report that the "Road Less Travelled" has now improved 200% and Tamarindo and Santa Cruz are totally accessible to residents and owners of Hacienda Pinilla.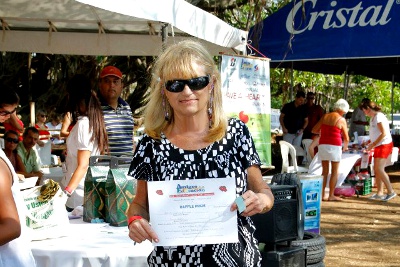 Hacienda Pinilla is a gorgeous 4500 acre estate with single family home as well as beautiful villas which measure a minimum of 3,000 square feet. We live in one of these villas and have for eight years. We wouldn't trade this residential experience for anything we have seen in Costa Rica. The construction far exceeds other homes and villas in this country.
If you read this blog feel free to contact us and we will outline the multiple opportunities that exist in Hacienda Pinilla including a Beach Club, Equestrian Center, a Four Star Marriott Hotel, an eighteen hole signature golf course and much much more.
Mary and Jerre West
RE/MAX Ocean Surf Agents in Tamarindo
Hacienda Pinilla Property Experts