Here in our beautiful Tamarindo area in the Gold Coast of Guanacaste, we have plenty of buyers looking for entry level properties to start their investments abroad. Even though we have certainly seen a reduction in inventory for this type of properties in the last few years, we still have a good number of options that fit the criteria of investors looking to start with a budget below US $200.000. 
Properties in this price point not only sell fast and are considered easy to resell. Some of these properties might need a little bit of love from the new owners and some others might be for sale turnkey and ready to use. As it is typical for any type of residential real estate, regardless of what your budget is, certain factors are to be considered to determine the price and your room for negotiation: year of construction, current condition, distance to the beach, number of bedrooms/bathrooms, parking availability and type of finishes. Those units will bring enough rental to cover your annual expenses and you might end up having a few hundreds or thousands left to spend when coming in vacation. Here are the best options walking distance to the beach for buyers that are looking to purchase and rent their property out while they are not in the country:
Villa Verde II: 52 unit complex, 250 meters from the beach with 2 pools, exterior parking and security on site 24h. All units in this complex are 2 stories and have 2 bedrooms and 2.5 bathrooms. 
Sueños I: Lower density complex located on the same street as Villa Verde II, 500 meters from the beach. Quaint village-style complex with common pool and 24hr security. All units in this complex are 2 stories and have 2 bedrooms and 2.5 bathrooms. 
Pueblo del Mar: Another good option within a 6 minute walk to the beach, on the main back road with banks, supermarkets and gym really close by. Very nice Italian style complex, with common pool, exterior parking and 24hr security. All units in this complex are 2 stories, from 1 bedroom to 3 bedrooms. 
Sand Dollar, Balcones del Pacifico, El Cometa and Estrelllas del Pacifico: These are all mid to low density and they are all located on the same road with restaurants, a supermarket, Tamarindo's new skatepark and the recently built gourmet food court known as El Mercadito. These are the most centric locations in Tamarindo. Placing owners in the heart of the action literally 1 block from the beach while having privacy and comfort in your own vacation residence. There's options with 1 bedroom, 2 bedrooms and 3 bedrooms. They all have a common pool. 
If you are interested in living here full time, you might want to know what else is out there within a budget of US$ 200,000. Of course those rental properties above can also be considered but being outside town would get you more for your money. You might find complexes with more features and better finishes than the ones above. Here are the best options within 5 minutes walk to the beach + within 10 driving minutes to the beach for buyers that are looking to move here or to own a vacation property and are not really interested in renting out: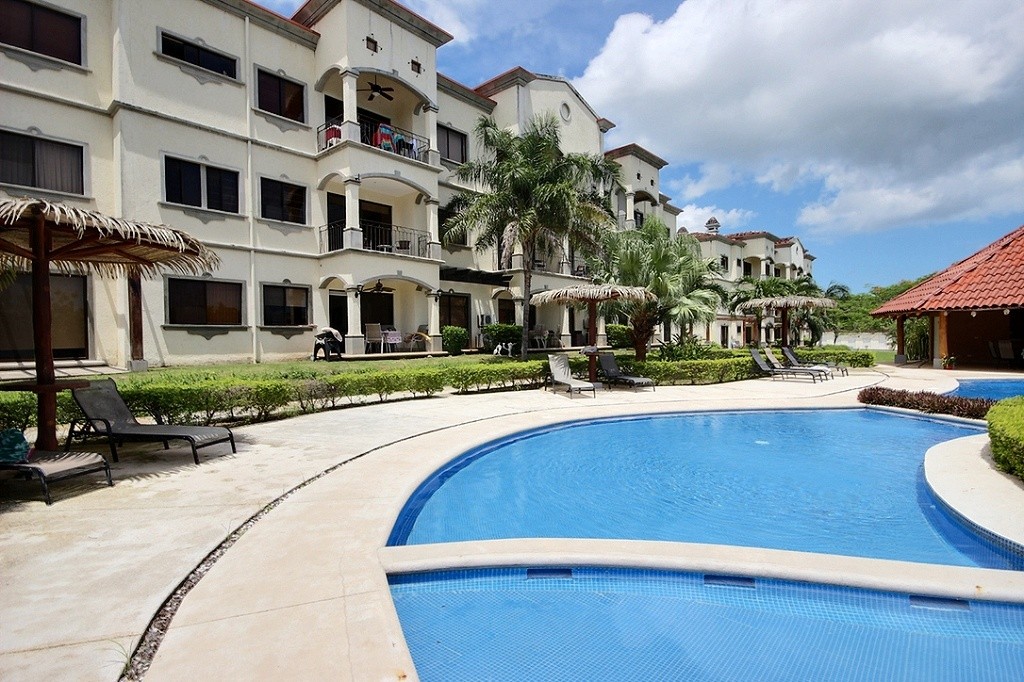 Brisas del Monte: Very nice low density complex about 1km from the beach in the back side of town, with only 6 units. There's a common pool and uncovered inside parking. All units have 2 bedrooms and 2 bathrooms.
Sueños II and Sueños III are lower end complexes, both around 1km from the beach. They both have nice exterior planning with the units surrounding the beautiful pools giving the complexes a nice and homey feeling, common pool and exterior parking. All units in those complexes have 2 bedrooms. 
Sunset Hills: Great option and located in the backroads of Tamarindo before entering the center of town. With ocean views from the common areas and nicely laid out units this makes a great opportunity for someone looking for a deal! There's a common pool and uncovered inside parking. Featuring 1 and 2 bedroom units. 
The Oaks: A higher density complex in the town of La Garita, about 10 minutes from Tamarindo. Features 3 pools, including a semi-olimpic one, security 24h, nicely manicured gardens and green areas, as well as playgrounds for kids. All units have 2 bedrooms and 2 bathrooms.
Las Palmas de Tamarindo: A little bit closer to town in the community of Villareal and just a 7 minute drive to Tamarindo. Featuring 1, 2 and 3 bedroom condominiums with a gorgeous and large swimming pool with a rancho, landscaped common areas and 24/7 security, includng private secured parking lot.
To find out more about condominimum complexes and price range in Tamarindo and Langosta, visit our other website www.propertiesintamarindo.cr.
Derrick Rowland, REMAX Administrative Assistant