Here in Guanacaste, we are often asked by our visitors and investors about television programming. It is important to many English-speaking foreigners to have television as a form of entertainment. Many expatriates want to continue watching their favorite sitcoms and shows, as well as following sporting events on ESPN, staying up to date with the latest news on CNN or watching movies on HBO. 
There's several company options to compare with when looking for good quality cable TV service in our area of Costa Rica. They all offer varied packages with different price ranges, depending on the number of channels you want to have and for which specific channels you want to have. You can also choose for high definition (HD) or standard. The majority of the most popular channels, such as ABC, CBS, FOX, CNN, HGTV, Food Network and other famous North American television networks are available in the country, and a portion of them come as part of the basic packages that companies offer. In the case these channels do not come in the package as default, it is simple and inexpensive to upgrade your package with more channels or simply add specific individual channels to your list.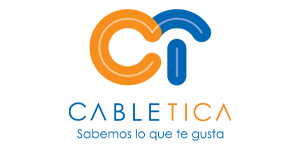 It is important to note that all of the companies mentioned here offer the option to customize your own TV package, as well as features like screen recording and parental control. Below, a few of the most renown cable companies in Costa Rica and their standard rates: 
Cabletica, one of the oldest companies in Costa Rica: After purchasing the basic digital package with +180 channels for US$ 8,30/month, you can purchase added packages from specific networks such as FOX Premium or HBO MAX for US$ 11,30/month. Cabletica offers a free streaming platform called CableticaPlay where they compile movies, sports, tv series and shows in one platform resembling the way Netflix works but with no charge and it is exclusively for members.

Tigo Star, formerly known as Amnet: They have a good reputation for strong signal saving time and energy for subscribers having to call for complaints. Tigo's basic digital package starts at US$ 47.40/month and has 109 channels + 7 channels in full HD resolution, and with 50 audio channels. It ranges from price, starting at US$ 59.66/month for the full HD package that includes 130 channels + 39 channels in full HD resolution and 50 audio channels. 

Kolbi TV, the brand name of ICE's cable TV services: Costa Rica's Institute of Electricity, or by its acronym in Spanish ICE, is probably one of the oldest government institutions in CR and it is responsible for the electric coverage and phone connections of over 60% of the country. They now supply television services under the brand name of their phone and now cable tv company, Kolbi. The rates for their basic digital package start at US$ 36.95/month with the option to add packages such as Kolbi Premium, which includes FOX Premium and HBO MAX for US$ 13.56/month as well as the HD package of 37 channels for US$ 7.80/month.

SKY TV, a Mexican TV company that has operated in Costa Rica for over 12 years: Sky TV's basic digital package starts at US$ 25.90/month and includes over +185 channels. Their basic HD package starts at only US$ 28.90/month with over 190 channels of which 67 are in full HD resolution, ranging from these two prices up to the premium package at US$ 58.90/month with over 240 including 105 channels in high definition! 
Recently Costa Rica's government issued a decree that stated that on August 14, 2019, the free analog TV signal would come to an end. That means that from now on, the only kind of television connections available and allowed will be digital, with a converter box, which is a big change for us Costa Ricans. It will probably go unnoticed by foreigners that are used to digital television in their home countries. 
What about Netflix? We also have it! The world famous streaming platform is 100% available in Costa Rica. Your account that was set up in the US or Canada will continue to work in Costa Rica without any problems so there is no need to change your password or resign up. Though, the programming licenses are different from a country to another so you will find that there are far fewer American TV shows and movies available for streaming in Costa Rica and much more Latin programing. Netflix recognizes by your IP address where you are logging in to your account and will show you what's available in the country you are staying, even if it's in your "list". That being said, there is still a large number of American options and on the first of every month, Netflx updates their database adding dozens of new TV series', episodes and movies.
We hope you found this article helpful and hopefully now you share with us the idea that home entertainment is definitely not an issue here in warm and beautiful Costa Rica. Pura Vida! 
Derrick Rowland, RE/MAX Administrative Assistant