Re/Max Ocean Surf of Tamarindo Costa Rica is proud to be part of HGTV's wildy successful House Hunters International, a program that integrates travel and real estate as house hunters tour and invest around the world.
The HGTV House Hunters Costa Rica episode follows Lynne and David Jenkins from Ontario, Canada and their Re/Max Ocean Surf agent Chris Spears. The Jenkins concentrated their search on Tamarindo, a charming beach town on Costa Rica's North Pacific Gold Coast coast that ranked in the top three on Trip Advisor's Best Beaches in Central America 2012.
The Jenkins did their research before traveling to Costa Rica. They chose to work with Re/Max Ocean Surf, a company with a North American affiliation and 17 years experience assisting foreigners buy real estate in Costa Rica. With the help of their Re/Max agent, they also spent time investigating Tamarindo condos so that they would understand the market and properties prior to their arrival.
David Jenkins, a regional manager of a Canadian full service brokerage company, says that "I always look at things from a business perspective. We agreed as a family that we wanted a three bedroom condo near the beach and town center. However, it was also important to me that any Costa Rica property we purchased would make sense as a Tamarindo vacation rental to offset our costs."In the Tamarindo House Hunters episode, scheduled for HGTV's fall lineup, the Jenkins family of five narrows their search to three luxury Tamarindo condos - La Perla Tamarindo, Courtyard Villas and the Tamarindo Diria – all offering first class amenities and excellent proximity to the beach.
Lynne Jenkins observes that her perspective is slightly different than that of her husband David. "My focus was on the lifestyle aspect of our purchase. Of course, I wanted a good investment, but I also felt that our Costa Rica property should be something that would enhance the lives of our family for years. We all loved Tamarindo from the moment we arrived. It had everything we were looking for – a beautiful beach, quaint town with great shops and restaurants, and lots of activities for the whole family."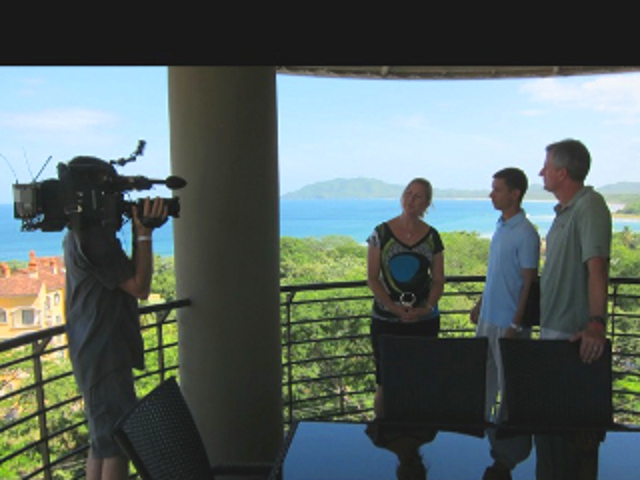 The Jenkin family says they were delighted to be part of the HGTV House Hunters Costa Rica episode alongside their Re/Max agent. "The entire experience has been fabulous. The filming was a lot of fun, and to be part of House Hunters International after finding our dream property in Costa Rica, that really was the icing on the cake."
Tune in to HGTV's House Hunters International on Dec 25, 2012 to learn more about Costa Rica property and learn which of the three Tamarindo condos – La Perla Tamarindo, Courtyard Villas or Tamarindo Diria – the Jenkins family chose. Pura Vida!