COSTA RICA PROPERTY SEARCH
Costa Rica's Best Beaches
Tamarindo Beach • Playa Langosta • Playa Grande • Playa Conchal • Brasilito Beach
Flamingo Beach • Playa Potrero • Playa Penca • Playa Avellanas • Playa Negra • Playa Junquillal
COSTA RICA'S BEST BEACHES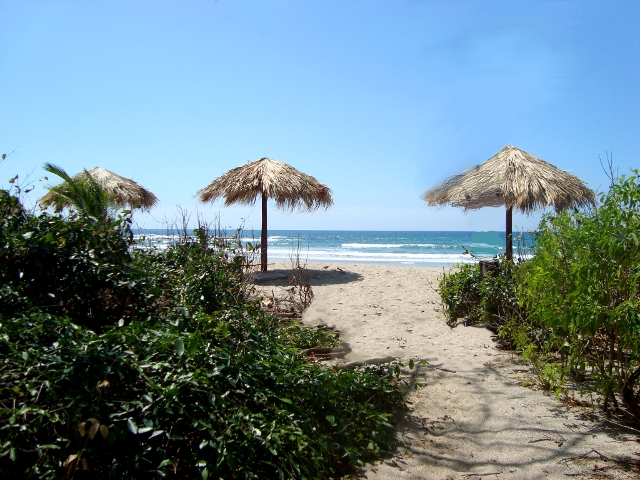 What can we say? You only have to spend one afternoon on a nearly deserted, pristine Costa Rica beach to know that you've found your dream location. You can choose between idyllic palm-lined beaches, small white-sand coves, or world-class surfing beaches. Better yet, you can visit all these and more in one day, as beach after extraordinary beach is strung together along the Costa Rican Riviera.
What could be better than an early morning surf to start your day? Perhaps one long invigorating lap along a quiet beacH, relaxing in a warm, blue lagoon, an exciting day of catch-release fishing for Marlin and Sailfish; or a peaceful stroll at sunset with your partner. The choice is yours.
Here are just a few of the gorgeous beaches near our Re/max Ocean Surf office where we sell Costa Rica real estate:
Tamarindo is a long, wide bay with soft sand, warm water, and palm trees. The bay is split by an estuary: the south side is called Tamarindo Beach, and the north Playa Grande. Tamarindo is a lively town with bustling sodas, shops and hotels. You will find exceptional restaurants here, with wonderful fresh seafood prepared by chefs from around the world. The area is popular with Costa Rica real estate investors who want to be in the center of a vibrant beach community.
Tamarindo Beach is where the cult surfing movies Endless Summer I and II begin, so surfers of all ages and abilities love to come here to ride the waves. Tamarindo anchors the surf community, and more advanced surfer can ford the estuaries on either side to surf either Grande or Langosta. Many sections of the bay, though, have almost no waves, so are calm and good for swimming. You can catch fishing charters for an exciting day of deep sea fishing, or get out the clubs for a game of golf at one of the two world-class golf courses located on either side of Tamarindo Beach. Since Tamarindo is bordered by two estuaries, you will see lots of wildlife here, including Howler monkeys and tropical birds. If you want an unforgettable experience, sign up for an eco-tour and ride by launch to Playa Grande to see the giant leatherback turtles during the nesting season (December through April). Tamarindo Beach real estate includes luxury condominiums, private homes and view lots. Tamarindo has something for everyone!
This point can only be accessed through Tamarindo since it is bordered by the town on one side and the Langosta estuary on the other. Langosta Beach real estate is very upscale, and consists of expensive waterfront homes, view condominiums, and boutique B&B's. Langosta is separated from Tamarindo Bay by a rocky headland, but is considered part of the same community. Langosta offers some excellent surfing near the estuary and shallow tidal pools along the point. Though the beach itself is not as good as Tamarindo for swimming, it is beautiful for an early morning walk.
This beach is primarily known for its surfing and leatherback turtles. It is located in the same bay as Tamarindo, but is separated from it by an estuary. Getting from Tamarindo to Playa Grande by foot can actually be shorter than taking your car, since you will need to drive out of Tamarindo, along the coastal road past the estuary, then back into Playa Grande a trip of approximately 25 minutes with the new paved road. Playa Grande real estate investors need to be aware that there are special conditions to building in Playa Grande due to its protected status as one of Costa Rica's many national parks. Please ask you Re/Max Ocean Surf agent for more details.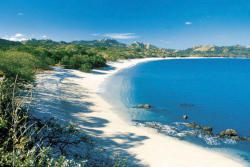 This is one of Costa Rica's finest beaches. There is no surfing here, only lovely calm swimming and excellent snorkeling. "Conchal" means "shell" in Spanish, which is fitting since the sand is scattered with tiny white and pink shells. A 2,500 acre beachfront golf resort with five star hotel take up the north half of the bay. The other is still relatively undeveloped, and can be accessed via the same road as Playa Grande, though you will need to veer north just after you pass the small town of Matapalo. Those looking for very upscale, exclusive Costa Rica real estate will definitely want to consider the north side of Playa Conchal , while the south section still has some small secluded condominium projects and larger parcels perfect for developers.
Until recently, this lovely light sand beach was virtually unknown to foreigners. Brasilito is a small fishing village located between Playa Conchal and Flamingo Beach in the center of the Costa Rican Riviera. Some of the areas best restaurants are located here. Rumours abound that a first-class hotel is vying for a property near Brasilito, though currently Costa Rica real estate development is at its beginning stages.
Flamingo Beach was one of the first North Pacific Coast beaches to develop, and remains very residential. The town of Flamingo is relatively small, with a few restaurants and shops. The community boasts the site of proposed marina and excellent sportfishing and diving. The white sand beach is great for swimming and snorkeling, but surfers will want to continue south to Tamarindo.
Potrero is an up-and-coming area with a wide, light grey sand beach, good fishing and quaint restaurants. The Flamingo Marina site is actually in Potrero Bay, so Potrero real estate situated on the beach has a wonderful view of fishing and sail boats moored in the marina. This area still offers some excellent value for your dollar.

This is one of our favorite beaches, a small crescent of pristine white sand lined with palms and lovely homes. Most of the beach is a protected mangrove forest, and will never see development. The swimming and snorkeling here are fabulous. Since Playa Penca is located just past Potrero, you can still see the Flamingo Marina from here, but experience a serene, tropical atmosphere. The hills above Penca offer some of the finest home sites in the world, with many stunning new estate homes currently underway. There will soon be some affordable boutique condominiums and small shops under construction, so ask about pre-construction opportunities in this gem of a beach.
This beach, just south of Tamarindo, is a beautiful half mile stretch of pale-gold sand bordered by mangroves and an estuary. Playa Avellanas has excellent surfing, and one of Costa Rica's coolest restaurants ? Lola?s. Lola is a Volkswagen-sized pig that loves to hang out in the surf and at the bar with the boys. You can wander up the beach with your board, kick-back at driftwood tables and stools, and swap surf stories while eating amazing food. Surprisingly enough, one of the best opportunities in Costa Rica real estate, a 4,500 acre beachfront golf resort, has a rancho bordering this great beach. If you want luxury and funk, surfing and golf, this is your spot. The new J.W. Marriot agrees.
Like Tamarindo, this beach is another Endless Summer II star. Playa Negra, or Black Beach, rivals the famous black sand beaches of the island of Hawaii. It has spectacular rocky volcanic outcrops that create some of the best breaks in the country. Playa Negra is growing in popularity with surfers and non-surfers alike for its wild, natural beauty and proximity to the J.W. Marriot site. There are new casual restaurants, health-food bakeries, Internet cafes and clothing shops springing up, as well as some fabulous lots and homes in the area. For those who wished they bought on the beautiful island of Hawaii when it was affordable, this is it. Ask our Re/max Ocean Surf agents for the latest update.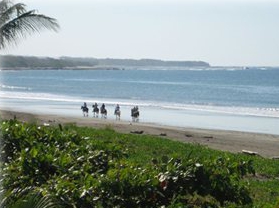 Junquillal, a wide two mile swath of beach south of Playa Negra, featuring gentle surf and a laid back atmosphere. Although the roads are still primitive, the area is growing and offers tranquility and longer-term Costa Rica real estate opportunities.